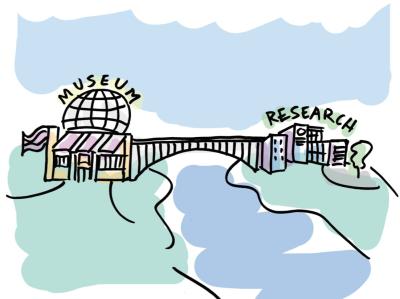 One of the goals of the Nanoscale Informal Science Education Network was to foster effective education outreach partnerships between science museums and research centers, focusing on nanoscale and materials science research. Such partnerships leverage the content expertise of the research center partners with the engagement expertise of the ISE partners, to create a broad menu of programs, products, and experiences that can be further shared throughout the network. Research Center - Informal Science Education Partnerships (RISE) provides professional development, consulting, and resources for partnerships, and also develops trainings in communication and public engagement for early career researchers. 
Many of the science museums involved in the NISE Network have developed education outreach partnerships with nearby research centers. These partners have collaborated to produce exhibits, programs, media, special events, workshops, and professional development programs for educators, journalists, and researchers interested in public engagement. Some of these partnerships rely on volunteer participation, and are not specifically funded; others are funded through education outreach subawards to the participating museums from federally-funded university-based research centers; still others are funded directly as partnership programs. Our goal is to help museums and research centers find each other, establish relationships, and move on to developing more robust and better-funded portfolios of grant or sub-award-funded work. These regionally-based partners can draw on the resources of the NISE Network, adapting them to their own needs. Later, they can contribute to that body of community resources as they begin to produce their own products, programs, and experiences. This partnership development strategy is meant to provide a means of constant renewal of resources and sustained long-term growth for the Network as a whole, as well as a means of building ISE institutional capacity for engaging public audiences in current science and technology nationwide. Our intent is also to foster the further development of a professional learning community: cultivating the skills of science museum staff in tackling current research through university partnerships and cultivating the science communication and pubic engagement skills of researchers.
Resources Available on nisenet.org: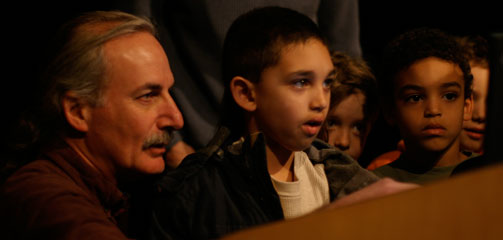 A research center - ISE partnership brought nanotech pioneer Don Eigler into the Museum of Science, Boston for a special NanoDays event. Kids loved getting their hands on his cool Atom-o-Scope web interface to direct the movement of a single atom poised on a metal surface in IBM's Almaden California laboratory.
Additional Resources
Articles and Papers on Research Center - Informal Science Education Partnerships and Strategy (downloads)