The NISE Network achieves its reach and impact through the participation of over 600 partner organizations in Network activities each year. The NISE Network creates resources on a national level, and Network partners coordinate and implement project activities locally. Through the diversity of our partner organizations, the Network has broad geographic and demographic reach across the country. Together, we engage 11 million people each year in high-quality STEM learning!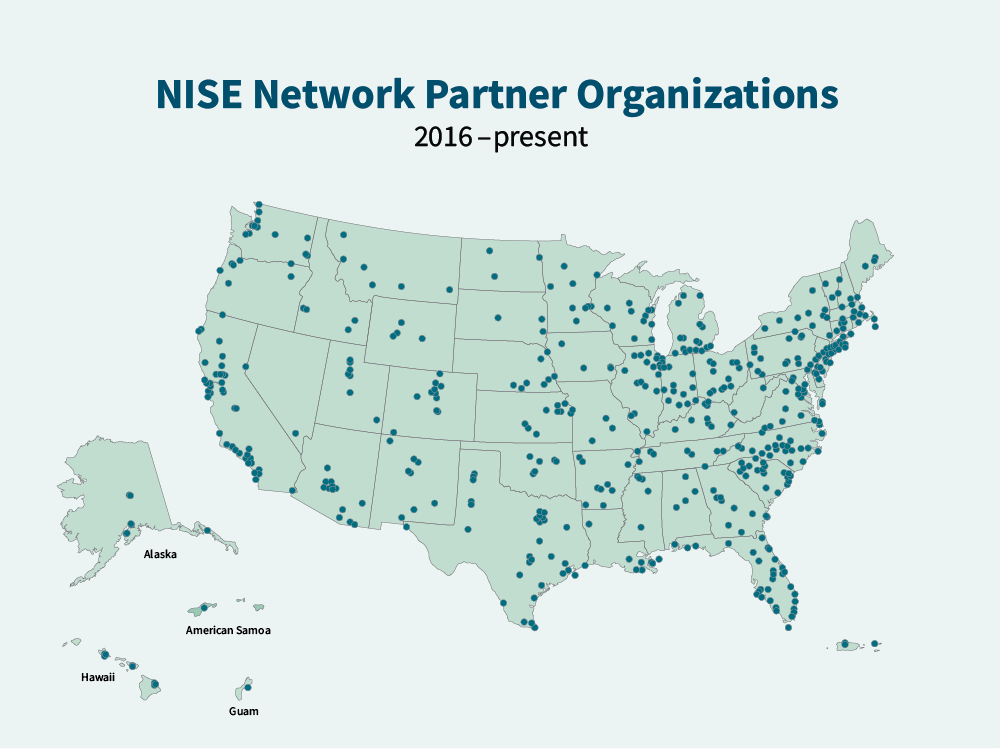 Who is included on this list below?
Most NISE Network partners are museums and university outreach educators and scientists located in the United States.
This list of institutions below is not exhaustive and only indicates partners who have received physical kits from the NISE Network; many additional institutions and individuals use the NISE Network public engagement materials and many others have generously contributed their expertise towards the development of these materials.
Each project has their own eligibility criteria and you can find lists of partners receiving different kits below.
Additionally, most NISE Network partners report collaborating locally with additional local community partners such as libraries, schools, afterschool programs, and community groups (these institutions and individuals are not included on the list below). 
For more information about NISE Network core partners and project partners for different projects, please visit:
http://www.nisenet.org/core-partner-organizations
For assistance with locating an individual person at one of the institutions below, please contact one of our regional hub leaders:
http://www.nisenet.org/contact
For more information about the kits listed below, please visit: 
http://www.nisenet.org/kits
---
Partners listed alphabetically by State, City, and physical kits received
Kits: Explore Science: Earth & Space (2017-2020), Explore Science: Let's Do Chemistry (2018), Frankenstein (2018), Building with Biology (2016), SustainABLE (2016), Explore Science: Zoom into Nano (2016), and NanoDays (2008-2015).
AK, Anchorage, Alaska Museum of Science and Nature, www.alaskamuseum.org, kits: NanoDays, 
AK, Anchorage, Anchorage Museum, https://www.anchoragemuseum.org/, kits: Earth & Space, NanoDays, 
AK, Anchorage, University of Alaska Anchorage, https://www.uaa.alaska.edu/, kits: Let's Do Chemistry, Earth & Space, Frankenstein200, 
AK, Fairbanks, Fairbanks Children's Museum, https://www.fairbankschildrensmuseum.com, kits: Let's Do Chemistry, Earth & Space, Building with Biology, 
AK, Fairbanks, University of Alaska Fairbanks - EarthScope National Office, http://www.earthscope.org, kits: Earth & Space, 
AK, Fairbanks, University of Alaska Museum of the North, http://www.uaf.edu/museum/, kits: Let's Do Chemistry, Earth & Space, Building with Biology, NanoDays, 
AK, Kenai, Challenger Learning Center of Alaska, https://akchallenger.org, kits: Earth & Space, Building with Biology, NanoDays, 
AL, Auburn , Auburn University, https://www.auburn.edu, kits: NanoDays, 
AL, Birmingham, McWane Science Center, http://www.mcwane.org, kits: Let's Do Chemistry, Earth & Space, Building with Biology, NanoDays, 
AL, Decatur, Cook Museum, www.cookmuseum.org, kits: NanoDays, 
AL, Gadsden, Imagination Place Children's Museum, http://www.culturalarts.com, kits: Earth & Space, 
AL, Huntsville, U.S. Space & Rocket Center, https://www.rocketcenter.com, kits: Let's Do Chemistry, Earth & Space, 
AL, Mobile, Gulf Coast Exploreum Science Center, http://www.exploreum.com, kits: Let's Do Chemistry, Earth & Space, Building with Biology, SustainABLE, NanoDays, 
AL, Montgomery, Starbase Maxwell, http://starbasemaxwell.org/About.html, kits: NanoDays, 
AL, Normal, Alabama A&M University, www.physics.aamu.edu, kits: NanoDays, 
AL, Tuscaloosa, The University of Alabama , https://www.ua.edu, kits: NanoDays, 
AR, Fayetteville, University of Arkansas, https://www.uark.edu, kits: NanoDays, 
AR, Fayetteville, University of Arkansas, Center for Math and Science Education, http://cmase.uark.edu, kits: Let's Do Chemistry, Earth & Space, NanoDays, 
AR, Hot Springs, Mid-America Science Museum, https://www.midamericamuseum.org, kits: Let's Do Chemistry, Earth & Space, Building with Biology, SustainABLE, NanoDays, 
AR, Jonesboro, Arkansas State University Museum, http://museum.astate.edu, kits: Let's Do Chemistry, Earth & Space, Building with Biology, NanoDays, 
AR, Little Rock, Arkansas Discovery Network,https://museumofdiscovery.org/arkansas-discovery-network/, kits: NanoDays, 
AR, Little Rock, Museum of Discovery, https://museumofdiscovery.org, kits: Earth & Space, SustainABLE, NanoDays, 
AR, Pine Bluff, Arts and Science Center for Southeast Arkansas, www.artssciencecenter.org, kits: NanoDays, 
AR, Smackover, Arkansas Museum of Natural Resources, https://www.arkansasstateparks.com/museumofnaturalresources/, kits: Frankenstein200, NanoDays, 
AS, Pago Pago, National Marine Sanctuary of American Samoa, https://americansamoa.noaa.gov/, kits: Earth & Space, 
AZ, Amado, Fred Lawrence Whipple Observatory, http://cfa.harvard.edu/flwo, kits: Earth & Space, 
AZ, Bisbee, Bisbee Science Exploration & Research Center, https://www.bisbeesciencelab.org, kits: Earth & Space, 
AZ, Goodyear, American Chemical Society Local Section - Central Arizona (ACS), https://cazacs.org, kits: Let's Do Chemistry, 
AZ, Mesa, Arizona Museum of Natural History, http://arizonamuseumofnaturalhistory.org, kits: Earth & Space, Frankenstein200, NanoDays, 
AZ, Phoenix, Arizona Science Center (ASC), https://www.azscience.org, kits: Let's Do Chemistry, Earth & Space, SustainABLE, NanoDays, 
AZ, Prescott, Embry-Riddle Aeronautical University - Prescott Observatory and Jim & Linda Lee Planetarium, http://prescott.erau.edu/about/labs/observatory, kits: Earth & Space, Frankenstein200, 
AZ, Safford, Eastern Arizona College (EAC)  Discovery Park Campus, http://www.eac.edu/discoverypark/, kits: Earth & Space, 
AZ, Sierra Vista, Patterson Observatory - University South Foundation, https://www.universitysouthfoundation.com, kits: Earth & Space, 
AZ, Sun City, Challenger Space Center Arizona, http://www.azchallenger.org, kits: Let's Do Chemistry, Earth & Space, NanoDays, 
AZ, Tempe, Arizona Science Center -  Center for Science and the Imagination (ASU CSI), csi.asu.edu, kits: 
AZ, Tempe, Arizona State University, Center for Solid State Sciences (ASU), http://le-csss.asu.edu/, kits: NanoDays, 
AZ, Tempe, Arizona State University, School for the Future of Innovation in Society (ASU SFIS), https://sfis.asu.edu, kits: Let's Do Chemistry, Earth & Space, Building with Biology, NanoDays, 
AZ, Tempe, Arizona State University, Walton Sustainability Solutions Initiatives (ASU WSSI), sustainabilitysolutions.asu.edu, kits: SustainABLE, 
AZ, Tucson, Children's Museum Tucson, http://www.childrensmuseumtucson.org, kits: Let's Do Chemistry, Earth & Space, Building with Biology, NanoDays, 
AZ, Tucson, Flandrau: University of Arizona Science Center and Planetarium, https://flandrau.org, kits: Let's Do Chemistry, Earth & Space, 
AZ, Tucson, National Optical Astronomy Observatory NOAO):  Kitt Peak National Observatory , https://visitkittpeak.org, http://noao.edu/education/, kits: Earth & Space, 
AZ, Yuma, Arizona Western University, http://www.azwestern.edu/, kits: NanoDays, 
AZ, Yuma, Children's Museum of Yuma County, http://yumachildrensmuseum.com/, kits: Earth & Space, 
CA, Arcata, Humboldt State University Natural History Museum (HSU), http://www.humboldt.edu/natmus, kits: Earth & Space, 
CA, Atwater, Challenger Learning Center of the San Joaquin Valley, http://www.challengersjv.org, kits: NanoDays, 
CA, Baldwin Park, Baldwin Park Arts and Recreation Center, https://www.baldwinpark.com/recreation/facilities/arts-and-recreation-c…, kits: NanoDays, 
CA, Berkeley, California Section, American Chemical Society (ACS), http://calacs.org, kits: Let's Do Chemistry, 
CA, Berkeley, Lawrence Berkeley National Laboratory (LBNL),

[email protected]

, kits: NanoDays, 
CA, Berkeley, Lawrence Hall of Science, https://www.lawrencehallofscience.org, kits: Let's Do Chemistry, Earth & Space, Building with Biology, SustainABLE, NanoDays, 
CA, Berkeley, University of California - Berkeley, https://www.berkeley.edu, kits: NanoDays, 
CA, Camarillo, kidSTREAM - Children's Museum in Ventura County, https://www.kidstream.org, kits: Let's Do Chemistry, Earth & Space, 
CA, Chico, Gateway Science Museum (Cal State University Chico), http://www.csuchico.edu, kits: Let's Do Chemistry, Earth & Space, 
CA, Chula Vista, Boys & Girls Club of South County, https://www.bgcscounty.org, kits: NanoDays, 
CA, Chula Vista, Southwestern College, http://www.swccd.edu, kits: NanoDays, 
CA, Claremont, Pomona College, Department of Physics and Astronomy, www.pomona.edu, kits: NanoDays, 
CA, Davis, Explorit Science Center, www.explorit.org, kits: Building with Biology, NanoDays, 
CA, Downey, Columbia Memorial Space Center, http://columbiaspacescience.org, kits: Let's Do Chemistry, Earth & Space, 
CA, Emeryville, Engineering Biology Research Consortium (EBRC), www.synberc.org, kits: Building with Biology, 
CA, Escondido, San Diego Children's Discovery Museum, http://www.sdcdm.org, kits: Let's Do Chemistry, Earth & Space, 
CA, Eureka, Redwood Discovery Museum, https://www.discovery-museum.org, kits: Earth & Space, 
CA, Fresno, California State University, Fresno State,  Downing Planetarium, http://www.fresnostate.edu/csm/downing-planetarium/index.html, kits: Let's Do Chemistry, Earth & Space, 
CA, Fresno, Fresno Discovery Center, https://www.fresnodiscoverycenter.org/, kits: Earth & Space, 
CA, Irvine, Pretend City Children's Museum, https://www.pretendcity.org, kits: Earth & Space, Frankenstein200, 
CA, Irvine, University of California, Irvine (UC Irvine), http://www.rocketsciencetutors.com/, kits: NanoDays, 
CA, La Habra, Children's Museum at La Habra, http://www.lhcm.org, kits: Let's Do Chemistry, Earth & Space, 
CA, La Verne, University of La Verne, www.laverne.edu, kits: Building with Biology, 
CA, Lakeport, Taylor Observatory-Norton Planetarium, http://www.lake-coe.k12.ca.us/programs/taylor_observatory, kits: Earth & Space, 
CA, Lodi, World of Wonders WOW Science Museum, http://www.wowsciencemuseum.org/, kits: Let's Do Chemistry, Earth & Space, NanoDays, 
CA, Los Angeles, California Science Center, http://www.californiasciencecenter.org/, kits: Earth & Space, Building with Biology, SustainABLE, NanoDays, 
CA, Los Angeles, Society of Hispanic Professional Engineers, http://www.shpe.org, kits: NanoDays, 
CA, Los Angeles, University of California - Los Angeles, http://centerx.gseis.ucla.edu, kits: NanoDays, 
CA, Los Angeles, University of California - Los Angeles, https://cnsi.ucla.edu, kits: NanoDays, 
CA, Los Gatos, Youth Science Institute, http://www.ysi-ca.org, kits: Earth & Space, NanoDays, 
CA, Merced, University of California - Merced (UCMerced), www.ucmerced.edu, kits: NanoDays, 
CA, Modesto, Modesto Junior College - The Great Valley Museum Planetarium, https://www.mjc.edu/instruction/sme/gvm/planetarium.php, kits: Let's Do Chemistry, Earth & Space, 
CA, Modesto, National Ag Science Center, http://agsciencecenter.org, kits: Let's Do Chemistry, Earth & Space, Building with Biology, NanoDays, 
CA, Moffett Field, NASA Ames Research Center, http://www.nasa.gov/centers/ames/home/index.html, kits: Earth & Space, 
CA, Monterey, Naval PostGraduate School, www.NPS.edu/ECE, kits: NanoDays, 
CA, Oakland, Chabot Space & Science Center, http://www.chabotspace.org, kits: Earth & Space, Building with Biology, NanoDays, 
CA, Palmdale, AERO Institute / NASA Armstrong Flight Research Center Office of Education, https://www.aeroi.org, kits: Earth & Space, 
CA, Pasadena, California Institute of Technology, http://www.caltech.edu, kits: NanoDays, 
CA, Pasadena, Kidspace Children's Museum, http://www.kidspacemuseum.org/, kits: Earth & Space, NanoDays, 
CA, Pomona, Cal Poly Pomona), https://www.cpp.edu, kits: Frankenstein200, NanoDays, 
CA, Rancho Cordova, Sacramento Children's Museum, https://sackids.org, kits: Earth & Space, 
CA, Redding, Turtle Bay Exploration Park, https://www.turtlebay.org, kits: Let's Do Chemistry, Earth & Space, SustainABLE, NanoDays, 
CA, Riverside, University of California - Riverside, http://www.physics.ucr.edu, kits: NanoDays, 
CA, Sacramento, Powerhouse Science Center, http://powerhousesc.org, kits: Let's Do Chemistry, Earth & Space, Building with Biology, NanoDays, 
CA, San Diego, Expanding Your Horizons of San Diego, http://www.eyhsandiego.org/home.aspx, kits: Building with Biology, 
CA, San Diego, Fleet Science Center, http://www.rhfleet.org, kits: Let's Do Chemistry, Earth & Space, Building with Biology, SustainABLE, NanoDays, 
CA, San Diego, San Diego Air & Space Museum, http://sandiegoairandspace.org/, kits: Earth & Space, 
CA, San Diego, San Diego Science Festival, https://www.lovestemsd.org, kits: NanoDays, 
CA, San Diego, Starbase-Atlantis San Diego, https://dodstarbase.org, kits: NanoDays, 
CA, San Diego , Elementary Institute Science, https://eisca.org/, kits: Building with Biology, 
CA, San Francisco, California Academy of Sciences (Cal Academy), https://www.calacademy.org, kits: Let's Do Chemistry, Earth & Space, SustainABLE, NanoDays, 
CA, San Francisco, Children's Creativity Museum, https://creativity.org, kits: Let's Do Chemistry, Earth & Space, 
CA, San Francisco, Exploratorium, www.exploratorium.edu, kits: NanoDays, 
CA, San Francisco, Lick-Wilmerding High School, https://www.lwhs.org/page, kits: NanoDays, 
CA, San Jose, Tech Museum of Innovation (The Tech), www.thetech.org, kits: Frankenstein200, Building with Biology, NanoDays, 
CA, San Luis Obispo, California Polytechnic State University, www.calpoly.edu, kits: NanoDays, 
CA, Santa Barbara, University of California - Santa Barbara - Center for Nanotechnology in Society and California NanoSystems Institute, http://cnsi.ucsb.edu/ http://www.nanotech.ucsb.edu/, kits: NanoDays, 
CA, Santa Maria, Santa Maria Valley Discovery Museum, https://smvdiscoverymuseum.org/, kits: Earth & Space, 
CA, Sausalito, Bay Area Discovery Museum, http://www.baykidsmuseum.org, kits: NanoDays, 
CA, Stanford, Stanford University, Center for Probing the Nanoscale (CPN), http://web.stanford.edu/group/cpn/, kits: NanoDays, 
CA, Temecula, Pennypickle's Workshop, the Temecula Children's Museum, http://www.pennypickles.org, kits: Let's Do Chemistry, Earth & Space, NanoDays, 
CA, Ventura, Discovery Center for Science and Technology, http://www.discoverycntr.org, kits: Earth & Space, NanoDays, 
CA, Yuba City, Playzeum Yuba-Sutter, http://www.yubasutterplay.org, kits: Earth & Space, 
CO, Aspen, Aspen Science Center, aspensciencecenter.org, kits: NanoDays, 
CO, Boulder, CU Science Discovery, University of Colorado Boulder, http://sciencediscovery.colorado.edu, kits: Let's Do Chemistry, Earth & Space, Building with Biology, NanoDays, 
CO, Boulder, University Corporation for Atmospheric Research (UCAR), https://scied.ucar.edu/visit, kits: Earth & Space, 
CO, Boulder, University of Colorado at Boulder, https://www.colorado.edu, kits: NanoDays, 
CO, Boulder, University of Colorado Boulder - Fiske Planetarium, http://www.colorado.edu/fiske/, kits: Earth & Space, 
CO, Broomfield, Mamie Doud Eisenhower Public Library, https://www.broomfield.org/276/Library-Home, kits: NanoDays, 
CO, Colorado Springs, Challenger Learning Center of Colorado, https://www.challengercolorado.org/, kits: Earth & Space, 
CO, Colorado Springs, Space Foundation Discovery Center, https://www.discoverspace.org, kits: Earth & Space, 
CO, Denver, Denver Museum of Nature & Science, http://www.dmns.org, kits: Let's Do Chemistry, Earth & Space, 
CO, Durango, Powerhouse Science Center, http://powsci.org, kits: Earth & Space, Building with Biology, NanoDays, 
CO, Fort Collins, Colorado State University , www.colostate.edu, kits: Building with Biology, 
CO, Fort Collins, Fort Collins Museum of Discovery, http://www.fcmod.org/, kits: Earth & Space, NanoDays, 
CO, Golden, Colorado School of Mines, mines.edu, kits: NanoDays, 
CO, Greeley, Poudre Learning Center, https://poudrelearningcenter.org, kits: Earth & Space, 
CO, Lafayette, WOW! Children's Museum, http://wowchildrensmuseum.org, kits: Let's Do Chemistry, Earth & Space, NanoDays, 
CO, Littleton, Arapahoe Community College, www.arapahoe.edu, kits: NanoDays, 
CO, Pueblo, Pueblo City-County Library District - InfoZone News Museum, http://www.pueblolibrary.org/infozone, kits: Building with Biology, 
CO, Vail, Betty Ford Alpine Gardens, http://bettyfordalpinegardens.org, kits: Earth & Space, 
CT, Bridgeport, Discovery Museum and Planetarium, http://www.discoverymuseum.org, kits: Let's Do Chemistry, Earth & Space, NanoDays, 
CT, Bristol, Imagine Nation Children's Museum, http://www.imaginemuseum.org, kits: Earth & Space, NanoDays, 
CT, Hartford, Connecticut Science Center, https://ctsciencecenter.org, kits: Earth & Space, NanoDays, 
CT, Hartford, Starbase CT, http://dodstarbase.org, kits: NanoDays, 
CT, New Haven, Southern Connecticut State University, https://crisp.yale.edu, kits: Earth & Space, Building with Biology, NanoDays, 
CT, New Haven, Yale University, www.sciencesaturdays.org, kits: Building with Biology, NanoDays, 
CT, Niantic, Children's Museum of Southeastern Connecticut, http://www.childrensmuseumsect.org, kits: Let's Do Chemistry, Earth & Space, 
CT, Norwalk, Stepping Stones Museum for Children, http://www.steppingstonesmuseum.org, kits: Earth & Space, NanoDays, 
CT, Storrs, University of Connecticut, http://mrs.engr.uconn.edu, kits: NanoDays, 
CT, Storrs, University of Connecticut - Institute of Materials Science, http://www.ims.uconn.edu, kits: NanoDays, 
CT, Torrington, KidsPlay Children's Museum, http://kidsplaymuseum.org, kits: Let's Do Chemistry, Earth & Space, 
CT, West Hartford, The Children's Museum, http://www.thechildrensmuseumct.org, kits: Earth & Space, NanoDays, 
DC, Washington, AAAS, www.aas.org, kits: Building with Biology, 
DC, Washington, American Chemical Society (ACS), http://www.acs.org, kits: Let's Do Chemistry, 
DC, Washington, Association of Science and Technology Centers (ASTC), http://www.astc.org, kits: NanoDays, 
DC, Washington, Howard University MRSEC, www.msrce.howard.edu, kits: NanoDays, 
DC, Washington, National Children's Museum, https://nationalchildrensmuseum.org, kits: Earth & Space, NanoDays, 
DC, Washington, National Geographic, http://www.nationalgeographic.com, kits: NanoDays, 
DC, Washington, Smithsonian Institution's National Museum of Natural History (NMNH), https://naturalhistory.si.edu, kits: Building with Biology, 
DC, Washington, Smithsonian National Air and Space Museum, https://airandspace.si.edu, kits: Let's Do Chemistry, Earth & Space, NanoDays, 
DC, Washington, Smithsonian National Museum of American History, Lemelson Center , www.invention.smithsonian.org, kits: NanoDays, 
DC, Washington, University of Southern California , https://research.usc.edu/about/vp/, kits: NanoDays, 
DE, Dover, Delaware State University, http://www.desu.edu, kits: NanoDays, 
DE, Hockessin, Delaware Section - American Chemical Society (ACS) , http://www.delawareacs.org/, kits: Let's Do Chemistry, 
DE, Smyrna, DASEF and Aerospace Education, http://www.dasef.org, kits: Earth & Space, 
DE, Wilmington, Delaware Museum of Natural History (DMNH), http://www.delmnh.org, kits: Let's Do Chemistry, Earth & Space, Building with Biology, SustainABLE, NanoDays, 
FL, Daytona Beach, Museum of Arts and Science - Daytona, FL, http://www.moas.org, kits: Let's Do Chemistry, Earth & Space, 
FL, Fort Lauderdale, Museum of Discovery and Science, http://www.mods.org/home.html, kits: Let's Do Chemistry, Earth & Space, 
FL, Fort Myers, IMAG History and Science Center, https://theimag.org , kits: Earth & Space, Building with Biology, NanoDays, 
FL, Fort Walton Beach, Emerald Coast Science Center, http://www.ecscience.org/, kits: Let's Do Chemistry, Earth & Space, 
FL, Gainesville, Cade Museum for Creativity and Invention, http://www.cademuseum.org, kits: Earth & Space, 
FL, Gainesville, Florida Museum of Natural History, http://www.flmnh.ufl.edu/, kits: Earth & Space, 
FL, Gainesville, WUFT-TV, a PBS affiliate of the Univ. of Florida, www.wuft.tv, kits: NanoDays, 
FL, Jacksonville, Museum of Science and History (MOSH), http://themosh.org, kits: Earth & Space, NanoDays, 
FL, Jensen Beach, The Children's Museum of the Treasure Coast, https://www.childrensmuseumtc.org, kits: Let's Do Chemistry, Earth & Space, 
FL, Kennedy Space Center, Kennedy Space Center, https://www.kennedyspacecenter.com, kits: Earth & Space, 
FL, Lakeland, Florida Children's Museum, https://explorefcm.org, kits: Earth & Space, 
FL, Madison, Madison County High School, http://mchs.madison.k12.fl.us, kits: NanoDays, 
FL, Marathon, Crane Point Museum and Nature Center, https://www.cranepoint.net, kits: Earth & Space, 
FL, Miami, Patricia and Phillip Frost Museum of Science , http://www.frostscience.org, kits: Earth & Space, NanoDays, 
FL, Miami Shores, Barry University, https://www.barry.edu, kits: Let's Do Chemistry, 
Fl, Naples, Golisano Children's Museum of Naples, http://www.cmon.org/, kits: Let's Do Chemistry, Earth & Space, NanoDays, 
FL, Ocala, Discovery Center, https://www.mydiscoverycenter.org, kits: Earth & Space, 
FL, Orlando, Orlando Science Center, http://osc.org, kits: Let's Do Chemistry, Earth & Space, Building with Biology, NanoDays, 
FL, Orlando, University of Central Florida, http://www.nanoscience.ucf.edu/, kits: NanoDays, 
FL, Pensacola, Pensacola MESS Hall, http://www.pensacolamesshall.org, kits: Let's Do Chemistry, Earth & Space, Building with Biology, NanoDays, 
FL, Saint Augustine, tag! Childrenís Museum of St. Augustine (Formerly called: Children's Museum of St. Johns), http://www.tagmuseum.org, kits: Let's Do Chemistry, Earth & Space, 
FL, Sanford, Emil Buehler Perpetual Trust Planetarium/ Seminole State College, https://www.seminolestate.edu/planet/, kits: Earth & Space, 
FL, St. Petersburg, Great Explorations, The Children's Museum, https://greatex.org, kits: Let's Do Chemistry, Earth & Space, NanoDays, 
FL, Tallahassee, Challenger Learning Center - Tallahassee, http://www.challengertlh.com, kits: Let's Do Chemistry, Earth & Space, 
FL, Tallahassee, Florida State University, https://www.fsu.edu, kits: NanoDays, 
FL, Tampa, Museum of Science and Industry (MOSI), https://www.mosi.org, kits: Earth & Space, Building with Biology, NanoDays, 
FL, Titusville, American Space Museum and U.S. Space Walk of Fame Museum, http://spacewalkoffame.org, kits: Earth & Space, 
FL, Titusville, Valiant Air Command, https://www.valiantaircommand.com, kits: Earth & Space, 
FL, Vero Beach, Environmental Learning Center, http://www.discoverelc.org, kits: Earth & Space, 
FL, West Palm Beach, South Florida Science Center and Aquarium, http://sfsm.org, kits: Earth & Space, Building with Biology, NanoDays, 
GA, Albany, Thronateeska Heritage Foundation - Wetherbee Planetarium, http://www.heritagecenter.org/planetarium.html, kits: Earth & Space, 
GA, Atlanta, Clark Atlanta University, http://www.cau.edu, kits: NanoDays, 
GA, Atlanta, Fernbank Museum of Natural History, http://fernbankmuseum.org, kits: Earth & Space, NanoDays, 
GA, Atlanta, Fernbank Science Center, http://www.fernbank.edu/, kits: Let's Do Chemistry, Earth & Space, NanoDays, 
GA, Atlanta, Georgia Institute of Technology, https://senic.gatech.edu, kits: NanoDays, 
GA, Cartersville, Tellus Science Museum, http://tellusmuseum.org, kits: Earth & Space, 
GA, Mableton, JJs Playhouse Children's Museum, http://jjsplayhouse.org/museum/, kits: Earth & Space, 
GA, Macon, Museum of Arts and Sciences - Mark Smith Planetarium, https://www.masmacon.org, kits: Earth & Space, 
GA, Statesboro, East Georgia State College, www.ega.edu, kits: NanoDays, 
GA, Statesboro, Georgia Southern University, http://cosm.georgiasouthern.edu/planetarium/, kits: Earth & Space, 
GA, Suwanee, Lambert High School , http://www.forsyth.k12.ga.us/lhs, kits: Building with Biology, 
GA, Valdosta, Valdosta State University - Southwest Georgia Section - American Chemical Society (ACS), https://www.valdosta.edu/colleges/arts-sciences/chemistry/student-affil…, kits: Let's Do Chemistry, 
GU, Mangilao, University of Guam, https://www.uog.edu/, kits: Earth & Space, 
HI, Hilo, `Imiloa Astronomy Center of Hawai`i, http://www.imiloahawaii.org, kits: Earth & Space, NanoDays, 
HI, HIlo, Hawaii Science and Technology Museum, http://www.hawaiisciencemuseum.org/, kits: Earth & Space, 
HI, Honolulu, Bishop Museum, http://www.bishopmuseum.org, kits: Earth & Space, Frankenstein200, NanoDays, 
HI, Honolulu, Hawaii Children's Discovery Center, http://www.discoverycenterhawaii.org, kits: Let's Do Chemistry, Earth & Space, NanoDays, 
HI, Kihei, Maui Science Center, http://www.mauisciencecenter.com, kits: Let's Do Chemistry, Earth & Space, 
IA, Bettendorf, Family Museum of Arts and Science, http://www.familymuseum.org, kits: Earth & Space, 
IA, Coralville, The Iowa Children's Museum , https://theicm.org/, kits: Earth & Space, 
IA, Davenport, Putnam Museum and Science Center, http://www.putnam.org, kits: NanoDays, 
IA, Des Moines, Science Center of Iowa, http://www.sciowa.org, kits: Let's Do Chemistry, Earth & Space, Building with Biology, SustainABLE, NanoDays, 
IA, Iowa City, Museum of Natural History - University of Iowa, https://mnh.uiowa.edu/, kits: Earth & Space, 
IA, Iowa City, University of Iowa, https://uiowa.edu, kits: Let's Do Chemistry, 
IA, Peterson, Prairie Heritage Center - O'Brien County Conservation Board, http://prairieheritagecenter.org, kits: Earth & Space, 
IA, Sioux City, LaunchPAD Children's Museum, http://www.launchpadmuseum.com/, kits: Earth & Space, 
ID, Boise, Boise State University, http://www.boisestate.edu/, kits: Building with Biology, NanoDays, 
ID, Boise, Discovery Center of Idaho, http://dcidaho.org, kits: Let's Do Chemistry, Earth & Space, NanoDays, 
ID, Idaho Falls, Museum of Idaho, https://museumofidaho.org/, kits: Let's Do Chemistry, Earth & Space, 
ID, Meridian, Children's Museum of Idaho, Inc., http://www.cmidaho.org, kits: Earth & Space, 
ID, Moscow, University of Idaho (ACS), http://www.uidaho.edu, kits: Let's Do Chemistry, 
ID, Pocatello, Idaho Museum of Natural History, https://www.isu.edu/imnh/, kits: Earth & Space, 
ID, Pocatello, Idaho State University (ACS), isu.edu, kits: Let's Do Chemistry, 
IL, Argonne, Argonne National Laboratory, www.nano.anl.gov, kits: NanoDays, 
IL, Aurora, SciTech Hands On Museum, http://scitechmuseum.org, kits: Let's Do Chemistry, Earth & Space, 
IL, Bourbonnais, Exploration Station...a children's museum, https://www.btpd.org/exploration_station.php, kits: Earth & Space, NanoDays, 
IL, Carbondale, The Science Center, http://yoursciencecenter.org, kits: Let's Do Chemistry, Earth & Space, 
IL, Champaign, Orpheum Children's Science Museum, http://orpheumkids.com, kits: Earth & Space, Building with Biology, NanoDays, 
IL, Champaign, William M. Staerkel Planetarium - Parkland College, http://www2.parkland.edu/planetarium/, kits: Earth & Space, 
IL, Chicago, Chicago Children's Museum, https://www.chicagochildrensmuseum.org, kits: Let's Do Chemistry, 
IL, Chicago, Museum of Science and Industry (MSI), https://www.msichicago.org, kits: Let's Do Chemistry, Earth & Space, SustainABLE, NanoDays, 
IL, Chicago, Northeastern Illinois University, www.neiu.edu, kits: NanoDays, 
IL, Chicago, University of Chicago, chicago.edu, kits: Building with Biology, 
IL, DeKalb, Northern Illinois University Smart Space Learning Center (STEM Outreach) , http://www.niu.edu/STEM/, kits: Let's Do Chemistry, Earth & Space, Building with Biology, 
IL, Edwardsville, Edwardsville Childrenís Museum, http://www.edwardsvillechildrensmuseum.org, kits: Earth & Space, 
IL, Evanston, Northwestern University, http://www.northwestern.edu/, kits: Building with Biology, 
IL, Evanston, Northwestern University, International Institute for Nanotechnology, https://www.iinano.org, kits: NanoDays, 
IL, Evanston, Northwestern University, Materials World Modules (MWM), http://www.materialsworldmodules.org, kits: NanoDays, 
IL, Evanston, Northwestern University, MRSEC, http://www.mrsec.northwestern.edu/, kits: NanoDays, 
IL, Evanston, Northwestern University, NCLT, http://www.northwestern.edu/searle/research/grants/Collaborative%20Gran…, kits: NanoDays, 
IL, Freeport, Children's Hands On Museum of NW Illinois, http://chomnwil.org/, kits: Earth & Space, 
IL, Glenview, Kohl Children's Museum, http://www.kohlchildrensmuseum.org, kits: Let's Do Chemistry, Frankenstein200, 
IL, Homewood, Homewood Science Center, homewoodsciencecenter.org, kits: Earth & Space, 
IL, Naperville, DuPage Children's Museum, www.dupagechildrensmuseum.org, kits: NanoDays, 
IL, Normal, Children's Discovery Museum, http://www.childrensdiscoverymuseum.net, kits: Let's Do Chemistry, Earth & Space, Building with Biology, NanoDays, 
IL, Normal, Illinois State University - Planetarium, http://www2.phy.ilstu.edu/~trw/planet.html, kits: Earth & Space, Frankenstein200, 
IL, Northbrook, Glenbrook North High School, https://gbn.glenbrook225.org, kits: NanoDays, 
IL, Oak Lawn, Children's Museum in Oak Lawn, http://www.cmoaklawn.org, kits: Let's Do Chemistry, Earth & Space, Building with Biology, NanoDays, 
IL, Oak Park, Wonder Works Children's Museum, http://www.wonder-works.org, kits: Earth & Space, 
IL, Park Ridge, Chicago Local Section American Chemical Society (ACS), , kits: Let's Do Chemistry, 
IL, Peoria, Peoria Riverfront Museum, http://www.peoriariverfrontmuseum.org, kits: Let's Do Chemistry, Earth & Space, 
IL, Rockford, Discovery Center Museum, http://www.discoverycentermuseum.org, kits: Let's Do Chemistry, Earth & Space, SustainABLE, NanoDays, 
IL, Vernon Hills, College of Lake County, http://www.clcillinois.edu/STEM/, kits: NanoDays, 
IL, Woodstock, Challenger Center Woodstock, http://www.challengerillinois.org, kits: Earth & Space, Building with Biology, NanoDays, 
IN, Batesville, Kids Discovery Factory , http://www.kidsdiscoveryfactory.org/, kits: Earth & Space, 
IN, Bloomington, Indiana University, https://www.indiana.edu, kits: NanoDays, 
IN, Bloomington, WonderLab Museum of Science, Health and Technology, http://www.wonderlab.org, kits: Let's Do Chemistry, Earth & Space, Building with Biology, NanoDays, 
IN, Columbus, kidscommons: columbus' community children's museum, http://www.kidscommons.org, kits: Earth & Space, 
IN, Crawfordsville, Carnegie Museum of Montgomery County, http://www.cdpl.lib.in.us/services/carnegie, kits: Let's Do Chemistry, Earth & Space, Frankenstein200, Building with Biology, NanoDays, 
IN, Fort Wayne, Science Central, http://sciencecentral.org, kits: Let's Do Chemistry, Earth & Space, Building with Biology, SustainABLE, NanoDays, 
IN, Gary, Notre Dame/Gary Community Schools, https://www.garycsc.k12.in.us, kits: NanoDays, 
IN, Hammond, Challenger Learning Center - NW Indiana, http://www.clcnwi.com, kits: Earth & Space, 
IN, Indianapolis, Indiana State Museum and Historic Sites, https://www.indianamuseum.org/, kits: Let's Do Chemistry, Earth & Space, 
IN, Indianapolis, Link Observatory Space Science Institute, http://www.linkobservatory.org, kits: Earth & Space, 
IN, Indianapolis, The Children's Museum of Indianapolis, https://www.childrensmuseum.org, kits: Let's Do Chemistry, Earth & Space, Building with Biology, NanoDays, 
IN, Lafayette, Imagination Station, http://www.imagination-station.org/, kits: Let's Do Chemistry, Earth & Space, 
IN, Lake Station, Bellaboo's Play & Discovery Center, http://www.mybellaboos.com/262/Bellaboos, kits: Earth & Space, 
IN, Muncie, Charles W. Brown Planetarium - Ball State University, http://cms.bsu.edu/academics/collegesanddepartments/physicsandastronomy…, kits: Earth & Space, 
IN, Muncie, Muncie Children's Museum, http://munciemuseum.com, kits: Earth & Space, Building with Biology, NanoDays, 
IN, Richmond, Joseph Moore Museum, Earlham College, https://earlham.edu/joseph-moore-museum/, kits: Earth & Space, Building with Biology, 
IN, South Bend, University of Notre Dame, http://www.nd.edu, kits: NanoDays, 
IN, Terre Haute, Terre Haute Children's Museum, http://www.thchildrensmuseum.com, kits: Earth & Space, 
IN, West Lafayette, Purdue University, nano.purdue.edu, kits: NanoDays, 
KS, Atchison, Atchison County Historical Society, http://atchisonhistory.org, kits: Earth & Space, 
KS, Holton, Banner Creek Science Center and Observatory, https://www.bcscience.org, kits: Earth & Space, 
KS, Manhattan, Flint Hills Discovery Center, https://www.flinthillsdiscovery.org/, kits: Earth & Space, 
KS, Manhattan, Kansas State University, https://www.k-state.edu, kits: NanoDays, 
KS, McPherson, McPherson County Gifted Education, https://www.mcpherson.com/apps/pages/index.jsp?uREC_ID=386714&type=d&pR…, kits: NanoDays, 
KS, Overland Park, Museum at Prairiefire, http://www.museumatpf.org, kits: Earth & Space, 
KS, Salina, Kansas Wesleyan University, www.kwu.edu, kits: NanoDays, 
KS, Topeka, Kansas Children's Discovery Center, http://kansasdiscovery.org, kits: Let's Do Chemistry, Earth & Space, Frankenstein200, NanoDays, 
KS, Wichita, Exploration Place, http://www.exploration.org, kits: Let's Do Chemistry, Earth & Space, Building with Biology, SustainABLE, NanoDays, 
KY, Bowling Green, Western Kentucky University - WKU Hardin Planetarium, www.wku.edu, kits: NanoDays, 
KY, GEORGETOWN, Lexington Section - American Chemical Society (ACS) , http://acslexington.sites.acs.org/, kits: Let's Do Chemistry, 
KY, Highland Heights, Haile Planetarium, http://nku.edu/planetarium, kits: Earth & Space, 
KY, Lexington, Living Arts and Science Center, https://lasclex.org/, kits: Earth & Space, 
KY, Louisville, Kentucky Science Center, http://www.louisvillescience.org/, http://www.kysciencecenter.org/, kits: Earth & Space, Building with Biology, NanoDays, 
KY, Owensboro, Owensboro Museum of Science & History, http://www.owensboromuseum.com, kits: Earth & Space, NanoDays, 
KY, Prestonsburg, East Kentucky Science Center and Planetarium, http://www.bigsandy.kctcs.edu/EKSC, kits: Let's Do Chemistry, Earth & Space, Building with Biology, NanoDays, 
KY, Richmond, Eastern Kentucky University - Hummel Planetarium, http://planetarium.eku.edu, kits: Let's Do Chemistry, Earth & Space, 
LA, Baton Rouge, Catholic High School, www.catholichigh.org, kits: NanoDays, 
LA, Baton Rouge, Knock Knock Children's Museum, http://www.knockknockmuseum.org/homepage.html, kits: Earth & Space, 
LA, Baton Rouge, Louisiana Art and Science Museum (LASM), http://www.lasm.org, kits: Let's Do Chemistry, Earth & Space, NanoDays, 
LA, Baton Rouge, Louisiana State University, www.pirealps.org/nano/; http://lasigma.loni.org, kits: NanoDays, 
LA, Lafayette, Lafayette Science Museum (formerly Lafayette Natural History Museum and Planetarium), http://www.lnhmpmuseum.org/, kits: NanoDays, 
LA, Luling, St. Charles Parish Library Planetarium, http://www.myscpl.org/planetarium, kits: Earth & Space, 
LA, Manderville, Children's Museum of St. Tammany, http://cmstkids.org, kits: Earth & Space, Building with Biology, 
LA, New Orleans, Loyola University New Orleans, www.loyno.edu, kits: NanoDays, 
LA, New Orleans, Xavier University of Louisiana, http://www.xula.edu, kits: NanoDays, 
LA, Ruston, Louisiana Tech University, http://www.latech.edu/, kits: NanoDays, 
LA, Shreveport, Sci-Port Discovery Center, https://www.sci-port.org/, kits: Earth & Space, Building with Biology, NanoDays, Frankenstein200
LA, Thibodaux, Bayou Country Children's Museum, http://www.bayoucountrychildrensmuseum.org, kits: Let's Do Chemistry, Earth & Space, 
MA, Acton, The Discovery Museums, https://www.discoveryacton.org, kits: Earth & Space, SustainABLE, NanoDays, 
MA, Barre, Quabbin Regional High School , http://www.qrsd.org/our-schools/high-school/, kits: NanoDays, 
MA, Belmont, DIYBio, n/a, kits: NanoDays, 
MA, Boston, Boston Children's Museum, http://www.bostonchildrensmuseum.org, kits: Let's Do Chemistry, Earth & Space, 
MA, Boston, Museum of Science, Boston, https://www.mos.org, kits: Let's Do Chemistry, Earth & Space, Building with Biology, SustainABLE, NanoDays, 
MA, Boston, Simmons College, www.simmons.edu, kits: NanoDays, 
MA, Brewster, Cape Cod Museum of Natural History, http://www.ccmnh.org/, kits: Earth & Space, 
MA, Cambridge, Harvard University, Nanoscale Science and Engineering Center, www.seas.harvard.edu, kits: NanoDays, 
MA, Cambridge, Massachusetts Institute of Technology (MIT), http://web.mit.edu, kits: NanoDays, 
MA, Cambridge, MIT Museum, http://web.mit.edu/museum/, kits: NanoDays, 
MA, Framingham, Framingham State University - Christa McAuliffe Center for Integrated Science Learning, http://christa.org, kits: Earth & Space, 
MA, Holyoke, Children's Museum at Holyoke, http://www.childrensmuseumholyoke.org/, kits: Earth & Space, 
MA, Lowell, University of Massachusetts - Lowell, Center for High-Rate Nanomanufacturing, www.uml.edu/nano, kits: Building with Biology, NanoDays, 
MA, Lynn, Girls, Inc. of Lynn, http://girlsinclynn.org, kits: NanoDays, 
MA, Nantucket, Maria Mitchell Association, https://www.mariamitchell.org, kits: Let's Do Chemistry, Earth & Space, Building with Biology, NanoDays, 
MA, Natick, U.S. Army Natick Soldier RD&E Center (NSRDEC), www.natick.army.mil, kits: NanoDays, 
MA, Newton, BioBuilder, biobuilder.org, kits: Building with Biology, 
MA, Norwell, Sloan Career Cornerstone Center, http://www.careercornerstone.org, kits: NanoDays, 
MA, Norwell, South Shore Natural Science Center (South Shore YMCA), http://southshorenaturalsciencecenter.org, kits: Let's Do Chemistry, Earth & Space, 
MA, Somerville, BosLab, http://www.boslab.org, kits: Building with Biology, 
MA, Springfield, Springfield Science Museum, https://springfieldmuseums.org/about/springfield-science-museum/, kits: Earth & Space, 
MA, Wenham, Gordon College, http://www.gordon.edu/academics/chemistry/acsstudentchapter, kits: Let's Do Chemistry, 
MA, Westfield, Amelia Park Children's Museum, https://www.ameliaparkmuseum.org/, kits: Earth & Space, 
MA, Wilbraham, Wilbraham and Monson Academy, http://www.wma.us, kits: NanoDays, 
MA, Woods Hole, Marine Biological Laboratory, http://www.mbl.edu, kits: Frankenstein200, NanoDays, 
MA, Worcester, EcoTarium, http://www.ecotarium.org, kits: Earth & Space, 
MA, Worcester, Worcester Polytechnic Institute (WPI), https://www.wpi.edu, kits: Let's Do Chemistry, 
MA, Worcester, Worcester State University, www.worcester.edu, kits: Building with Biology, 
MD, Baltimore, Baltimore & Ohio Railroad Museum (B&O Railroad), www.borail.org, kits: Building with Biology, 
MD, Baltimore, Maryland Science Center, https://www.mdsci.org, kits: Earth & Space, Building with Biology, SustainABLE, NanoDays, 
MD, Baltimore, Port Discovery Children's Museum, http://www.portdiscovery.org, kits: Let's Do Chemistry, Earth & Space, Building with Biology, NanoDays, 
MD, College Park, University of Maryland, http://umdphysics.umd.edu/about-us/people/physicsadministration.html, kits: Building with Biology, 
MD, College Park, University of Maryland, MRSEC, umd.edu, kits: NanoDays, 
MD, Columbia, James and Anne Robinson Nature Center, https://www.howardcountymd.gov/Robinson, kits: Earth & Space, 
MD, Gaithersburg, Gaithersburg Community Museum, http://gaithersburgmd.gov/about-gaithersburg/city-facilities/internatio…, kits: Let's Do Chemistry, Earth & Space, 
MD, Greenbelt, NASA Goddard Visitor Center, http://www.nasa.gov/centers/goddard/visitor/home/index.html, kits: Frankenstein200, NanoDays, 
MD, Hagerstown, Discovery Station at Hagerstown, https://discoverystation.org, kits: Let's Do Chemistry, Earth & Space, 
MD, Hagerstown, William Brish Planetarium, https://wbplanetarium.weebly.com, kits: Earth & Space, 
MD, Rockville, Rockville Science Center, http://rockvillesciencecenter.org, kits: Earth & Space, Building with Biology, NanoDays, 
MD, Salisbury, University of Maryland Extension - 4H, https://extension.umd.edu/, kits: NanoDays, 
MD, Silver Spring, Washington, DC Local Section - American Chemical Society (ACS) , http://www.capitalchemist.org, kits: Let's Do Chemistry, 
ME, Bangor, Maine Discovery Museum, https://www.mainediscoverymuseum.org, kits: Let's Do Chemistry, Earth & Space, Building with Biology, NanoDays, 
ME, Hinckley, L.C.Bates Museum, https://www.gwh.org/lcbates, kits: Let's Do Chemistry, Earth & Space, 
ME, Machias, DownEast STEM Guide, https://mmsa.org/2015/09/stem-guides-downeast-launched/, kits: Building with Biology, 
ME, Orono, University of Maine, https://umaine.edu, http://astro.umaine.edu, kits: Earth & Space, NanoDays, 
ME, Portland, Center for Science Technology and Human Innovation, http://nanodiscoverylabs.org, kits: NanoDays, 
ME, Portland, University of Southern Maine, https://usm.maine.edu, kits: NanoDays, 
MI, Albion, Kids 'N' Stuff Children's Museum, http://www.kidsnstuff.org, kits: Earth & Space, 
MI, Allendale, Western Michigan Section - American Chemical Society (ACS) , http://westernmichigan.sites.acs.org/, kits: Let's Do Chemistry, Frankenstein200, 
MI, Alpena, Besser Museum for Northeast Michigan, http://www.bessermuseum.org, kits: Earth & Space, 
MI, Ann Arbor, Ann Arbor Hands On Museum (AAHOM), https://www.aahom.org, kits: Earth & Space, NanoDays, 
MI, Ann Arbor, University of Michigan Museum of Natural History, https://lsa.umich.edu/ummnh, kits: Let's Do Chemistry, Earth & Space, 
MI, Ann Arbor, University of Michigan, Lurie Nanofabrication Facility, www.lnf.umich.edu, kits: NanoDays, 
MI, Battle Creek, Kingman Museum, http://www.kingmanmuseum.org, kits: Let's Do Chemistry, Earth & Space, 
MI, Detroit, Michigan Science Center (MiSci), http://www.mi-sci.org, kits: Let's Do Chemistry, Earth & Space, Building with Biology, NanoDays, 
MI, Detroit, Wayne State University, https://wayne.edu/, kits: Earth & Space, 
MI, East Jordan, Raven Hill Discovery Center, http://miravenhill.org, kits: Earth & Space, 
MI, East Lansing, Michigan State University, https://msu.edu, kits: Earth & Space, Building with Biology, 
MI, East Lansing, Michigan State University local section - American Chemical Society (ACS) , http://msuacs.sites.acs.org, kits: Let's Do Chemistry, 
MI, Flint, Flint Children's Museum, www.flintchildrensmuseum.org, kits: NanoDays, 
MI, Flint, Sloan Museum and Longway Planetarium, http://sloanlongway.org, kits: NanoDays, 
MI, Grand Rapids, Grand Rapids Children's Museum, http://www.grcm.org, kits: Earth & Space, 
MI, Grand Rapids, Grand Rapids Public Museum, http://www.grpm.org, kits: Earth & Space, 
MI, Grand Rapids, Grand Valley State University, www.gvsu.edu, kits: NanoDays, 
MI, Jackson, Imagine Planet, http://www.imagineplanet.net, kits: Let's Do Chemistry, Earth & Space, 
MI, Kalamazoo, Kalamazoo Valley Museum, http://www.kalamazoomuseum.org, kits: Let's Do Chemistry, Earth & Space, 
MI, Lansing, Impression 5 Science Center, http://www.impression5.org/, kits: Let's Do Chemistry, Earth & Space, NanoDays, 
MI, Lansing, Lansing Community College, https://www.lcc.edu, kits: NanoDays, 
MI, Midland, Midland Center for the Arts - Alden B. Dow Museum of Science & Art, http://www.mcfta.org/alden-b-dow-museum-of-science-and-art/, kits: Let's Do Chemistry, Earth & Space, 
MI, Midland, Midland Section  - American Chemical Society (ACS) , http://www.midlandacs.org/, kits: Let's Do Chemistry, 
MI, Mt. Pleasant, Central Michigan University, https://www.cmich.edu, kits: NanoDays, 
MI, Mt. Pleasant, Mount Pleasant Discovery Museum, http://www.mpdiscoverymuseum.org, kits: Building with Biology, NanoDays, 
MI, Portage, Air Zoo, http://www.airzoo.org, kits: Earth & Space, 
MI, Saginaw, Mid-Michigan Children's Museum, https://www.michildrensmuseum.org, kits: Earth & Space, 
MI, Selfridge Air National Guard Base, Starbase Selfridge, https://www.starbaseone.org, kits: NanoDays, 
MI, St. Joseph, Curious Kids' Museum, https://curiouskidsmuseum.org/, kits: Earth & Space, 
MI, Traverse City, Great Lakes Children's Museum, https://www.greatlakeskids.org, kits: Earth & Space, Building with Biology, NanoDays, 
MI, West Bloomfield , Imaginosity Discovery Center, http://www.imaginositydetroit.org/# , kits: Frankenstein200, NanoDays, 
MN, Bemidji, Headwaters Science Center, http://hscbemidji.org, kits: Let's Do Chemistry, Earth & Space, Building with Biology, NanoDays, 
MN, Duluth, Duluth Children's Museum, http://www.playduluth.org/, kits: Earth & Space, Building with Biology, NanoDays, 
MN, Duluth, University of Minnesota - Duluth (Marshall W. Alworth Planetarium), https://scse.d.umn.edu/marshall-w-alworth-planetarium, kits: Earth & Space, 
MN, Fergus Falls, Otter Tail County Museum, https://otchs.org, kits: Earth & Space, 
MN, Minneapolis, SELF International, Inc. (Science Education Literacy & Fine Arts) , http://www.selfinternational.org, kits: Let's Do Chemistry, Frankenstein200, Building with Biology, NanoDays, 
MN, Minneapolis, The Bakken Museum, https://thebakken.org, kits: Earth & Space, NanoDays, 
MN, Minneapolis, University of Minnesota, https://twin-cities.umn.edu, kits: NanoDays, 
MN, Rosemount, Dakota County Technical College, dctc.edu, kits: NanoDays, 
MN, Saint Paul, Bell Museum of Natural History, https://www.bellmuseum.umn.edu/, kits: Earth & Space, Frankenstein200, 
MN, Saint Paul, Minnesota Children's Museum, www.mcm.org, kits: NanoDays, 
MN, Saint Paul, Science Museum of Minnesota (SMM), https://www.smm.org, kits: Let's Do Chemistry, Earth & Space, Building with Biology, SustainABLE, NanoDays, 
MO, Farmington, Lab:Revolution, www.labrevo.org, kits: Frankenstein200, Building with Biology, 
MO, Jefferson City, Missouri State Museum, https://mostateparks.com/park/missouri-state-museum, kits: Earth & Space, 
MO, Kansas City, Science City at Union Station, https://www.unionstation.org/sciencecity, kits: Let's Do Chemistry, Earth & Space, 
MO, Malden, Bootheel Youth Museum, http://www.bootheelyouthmuseum.org, kits: Let's Do Chemistry, Earth & Space, Building with Biology, NanoDays, 
MO, Rolla, Missouri University of Science and Technology (MST), mst.edu, kits: Building with Biology, 
MO, Rolla, The Kaleidoscope Discovery Center, https://thekaleidoscope.org, kits: Let's Do Chemistry, Earth & Space, 
MO, Saint Louis, Saint Louis Science Center (SLSC), https://www.slsc.org, kits: Let's Do Chemistry, Earth & Space, Building with Biology, SustainABLE, NanoDays, 
MO, Saint Louis, Washington University  in St. Louis, https://wustl.edu, kits: NanoDays, 
MO, Springfield, Discovery Center of Springfield, https://www.discoverycenter.org, kits: Earth & Space, NanoDays, 
MS, Cleveland, Delta State University, www.deltastate.edu, kits: NanoDays, 
MS, Gulfport, Lynn Meadows Discovery Center, http://www.lmdc.org, kits: Earth & Space, Building with Biology, 
MS, Hattiesburg, University of Southern Mississippi, https://home.usm.edu, kits: Building with Biology, NanoDays, 
MS, Jackson, Callaway High School, http://www.jackson.k12.ms.us/school_sites/callaway/index.htm, kits: NanoDays, 
MS, Jackson, Jackson State University, http://www.jsums.edu/chemistry, kits: Let's Do Chemistry, NanoDays, 
MS, Jackson, Mississippi Children's Museum, https://mschildrensmuseum.org, kits: Let's Do Chemistry, Earth & Space, 
MS, Pearlington, Infinity Science Center, http://www.visitinfinity.com, kits: Let's Do Chemistry, Earth & Space, Frankenstein200, 
MS, Raymond, Hinds Community College, http://www.hindscc.edu, kits: NanoDays, 
MS, University, University of Mississippi, http://www.olemiss.edu, kits: Let's Do Chemistry, Frankenstein200, 
MT, Billings, Wise Wonders - A Montana Children's Museum, http://wisewonders.org, kits: Let's Do Chemistry, Earth & Space, Building with Biology, 
MT, Bozeman, Montana State University Extended University - Burns Technology Center (MSU), http://eu.montana.edu, kits: Let's Do Chemistry, Earth & Space, Building with Biology, SustainABLE, NanoDays, 
MT, Ekalaka, Carter County Museum, https://cartercountymuseum.org, kits: Earth & Space, 
MT, Helena, Exploration Works!, https://www.explorationworks.org, kits: Let's Do Chemistry, Earth & Space, Building with Biology, NanoDays, 
MT, Kalispell, Glacier Children's Museum, http://glacierchildrensmuseum.org/, kits: Earth & Space, 
MT, Missoula, University of Montana - spectrUM Discovery Area, http://spectrum.umt.edu, kits: Let's Do Chemistry, Earth & Space, Building with Biology, SustainABLE, NanoDays, 
NC, Asheville, Asheville Museum of Science, http://ashevillescience.org/, kits: Let's Do Chemistry, Earth & Space, 
NC, Aurora, Aurora Fossil Museum Foundation, Inc., http://aurorafossilmuseum.org, kits: Let's Do Chemistry, Earth & Space, Frankenstein200, 
NC, Boone, Appalachian State University, http://www.appstate.edu/, kits: NanoDays, 
NC, Boone, The Children's Playhouse, http://goplayhouse.org, kits: Let's Do Chemistry, Earth & Space, 
NC, Chapel Hill, Kidzu Children's Museum, https://www.kidzuchildrensmuseum.org, kits: Earth & Space, 
NC, Chapel Hill, Morehead Planetarium and Science Center - UNC Chapel Hill, http://www.moreheadplanetarium.org/, kits: Let's Do Chemistry, Earth & Space, Building with Biology, NanoDays, 
NC, Chapel Hill, University of North Carolina - Chapel Hill - Institute for Advanced Materials, http://chanl.unc.edu, kits: NanoDays, 
NC, Charlotte, Discovery Place, Inc., https://www.discoveryplace.org, kits: Let's Do Chemistry, Earth & Space, Building with Biology, SustainABLE, NanoDays, 
NC, Charlotte, McDowell Nature Center, https://www.mecknc.gov/ParkandRec/StewardshipServices/NatureCenters/Pag…, kits: Earth & Space, 
NC, Durham, Duke University, www.duke.edu, kits: Building with Biology, 
NC, Durham, Museum of Life and Science, https://www.lifeandscience.org, kits: Let's Do Chemistry, Earth & Space, Building with Biology, NanoDays, 
NC, Elizabeth City, Port Discover: Northeastern North Carolina's Center for Hands-on Science, https://portdiscover.wildapricot.org/, kits: Earth & Space, Building with Biology, NanoDays, 
NC, Fayetteville, Fascinate-U Museum, http://www.fascinate-u.com, kits: Let's Do Chemistry, Earth & Space, 
NC, Gastonia, Gaston Day School, www.gastonday.org, kits: Building with Biology, 
NC, Graham, Children's Museum of Alamance County, www.childrensmuseumofalamance.org, kits: Earth & Space, NanoDays, 
NC, Greensboro, Greensboro Children's Museum, http://www.gcmuseum.com/, kits: Let's Do Chemistry, Earth & Space, 
NC, Greensboro, Greensboro Science Center, http://www.greensboroscience.org, kits: Earth & Space, NanoDays, 
NC, Greenville, A Time for Science (Greenville Science Center and Grifton Nature & Science Center), https://atimeforscience.org/, kits: Earth & Space, Building with Biology, NanoDays, 
NC, Hendersonville, Hands On! Children's Museum, http://handsonwnc.org, kits: Let's Do Chemistry, Earth & Space, NanoDays, 
NC, Hickory, Catawba Science Center, www.catawbascience.org, kits: NanoDays, 
NC, Huntersville, Discovery Place Kids Huntersville, https://www.discoveryplace.org, kits: Let's Do Chemistry, Earth & Space, 
NC, Kenansville, Cowan Museum of History and Science, http://www.cowanmuseum.org/, kits: Earth & Space, 
NC, Lumberton, Robeson Planetarium and Science Center, http://www.robesonsky.com/, kits: Earth & Space, 
NC, Oxford, Granville County Museums, http://www.granvillemuseumnc.org/, kits: Earth & Space, 
NC, Pinehurst, Sandhills Community College, http://www.sandhills.edu, kits: Building with Biology, 
NC, Raleigh, Marbles Kids Museum, http://www.marbleskidsmuseum.org, kits: Let's Do Chemistry, Earth & Space, Building with Biology, NanoDays, 
NC, Raleigh, North Carolina Museum of Natural Sciences, http://naturalsciences.org, kits: Let's Do Chemistry, Earth & Space, NanoDays, 
NC, Raleigh, North Carolina State University, http://www.ced.ncsu.edu/nanoscale/index.html, kits: Let's Do Chemistry, Earth & Space, Building with Biology, NanoDays, 
NC, Rosman, Pisgah Astronomical Research Institute (PARI), Http://www.pari.edu, kits: Earth & Space, 
NC, Rutherfordton, KidSenses Children's Museum, https://www.kidsenses.org, kits: Earth & Space, Frankenstein200, NanoDays, 
NC, Salisbury, Margaret C. Woodson Planetarium at Horizons Unlimited, http://www.rss.k12.nc.us/margaret-c-woodson-planetarium, kits: Earth & Space, Frankenstein200, 
NC, Sunset Beach, Museum of Coastal Carolina Ingram Planetarium, http://museumplanetarium.org/, kits: Let's Do Chemistry, Earth & Space, 
NC, Wilmington, Cape Fear Museum or Cape Fear Museum of History and Science, https://www.capefearmuseum.com, kits: Earth & Space, Building with Biology, NanoDays, 
NC, Wilmington, Children's Museum of Wilmington, http://www.playwilmington.org/, kits: Earth & Space, 
NC, Wilson, Imagination Station Science and History Museum, www.imaginescience.org, kits: NanoDays, 
NC, Winston-Salem, Kaleideum North, http://north.kaleideum.org, kits: Let's Do Chemistry, Earth & Space, NanoDays, 
ND, Bismarck, Gateway to Science, http://www.gatewaytoscience.org, kits: Let's Do Chemistry, Earth & Space, Building with Biology, SustainABLE, NanoDays, 
ND, Fargo, North Dakota State College of Science, www.ndscs.edu/stem, kits: NanoDays, 
ND, Fargo, North Dakota State University, http://www.ndsu.edu/coe/, kits: NanoDays, 
ND, Grand Forks, University of North Dakota, http://und.edu, kits: Let's Do Chemistry, NanoDays, 
ND, Minot, Magic City Discovery Center/ Children's Museum of Minot, https://www.magiccitydiscoverycenter.com/, kits: Earth & Space, 
NE, Ashland, Strategic Air & Space Museum, http://www.sasmuseum.com, kits: NanoDays, 
NE, Aurora, Edgerton Explorit Center, http://www.edgerton.org/, kits: Let's Do Chemistry, Earth & Space, NanoDays, 
NE, Kearney, Kearney Area Children's Museum , https://kearneychildrensmuseum.org, kits: Let's Do Chemistry, Earth & Space, 
NE, Kearney, University of Nebraska - Kearney, http://www.unk.edu, kits: Earth & Space, NanoDays, 
NE, Lincoln, Lincoln Children's Museum, http://www.lincolnchildrensmuseum.org, kits: Let's Do Chemistry, Earth & Space, 
NE, Lincoln, University of Nebraska Lincoln, http://www.unl.edu/ncmn/home, kits: Let's Do Chemistry, NanoDays, 
NE, Lincoln, University of Nebraska State Museum of Natural History and Mueller Planetarium, http://www.museum.unl.edu, kits: Earth & Space, 
NE, Omaha, Omaha Children's Museum, www.ocm.org, kits: NanoDays, 
NE, Omaha, University of Nebraska - Omaha  (Mallory Kountze Planetarium), https://aimforthestars.unomaha.edu/index.php, https://www.unomaha.edu/college-of-arts-and-sciences/physics/community-…, kits: Earth & Space, 
NH, Concord, 21st Century Community Learning Center @ Concord High School, http://chs.sau8.org/student_life/21_c, kits: Building with Biology, 
NH, Concord, McAuliffe-Shepard Discovery Center, https://www.starhop.com, kits: Earth & Space, NanoDays, 
NH, Durham, University of New Hampshire, https://www.unh.edu, kits: NanoDays, 
NH, Keene, Cheshire Children's Museum, www.cheshirechildrensmuseum.org, kits: Earth & Space, 
NH, Manchester, SEE Science Center, http://www.see-sciencecenter.org, kits: Let's Do Chemistry, Earth & Space, Building with Biology, NanoDays, 
NJ, Branchburg, Storming Robots, LLC, http://www.stormingrobots.com, kits: NanoDays, 
NJ, Cherry Hill, Garden State Discovery Museum, http://www.discoverymuseum.com, kits: NanoDays, 
NJ, Glassboro, Rowan University, https://www.rowan.edu, kits: Let's Do Chemistry, Frankenstein200, NanoDays, 
NJ, Glassboro, Rowan University - Edelman Planetarium, http://www.rowan.edu/planetarium/, kits: Earth & Space, 
NJ, High Bridge, New Jersey Astronomical Association (The Paul Robinson Observatory), njaa.org, kits: Earth & Space, 
NJ, Jersey City, Liberty Science Center, https://lsc.org, kits: Earth & Space, SustainABLE, NanoDays, 
NJ, Morristown, Morris Museum, http://www.morrismuseum.org, kits: Earth & Space, Building with Biology, NanoDays, 
NJ, Newark, Newark Museum, http://www.newarkmuseum.org, kits: Earth & Space, NanoDays, 
NJ, Princeton, Princeton University, https://pccm.princeton.edu/education, kits: Let's Do Chemistry, Earth & Space, Building with Biology, NanoDays, 
NJ, Toms River, Ocean County College - Robert J. Novins Planetarium, https://www.ocean.edu/content/public.html, kits: Earth & Space, 
NJ, Trenton, New Jersey State Museum, http://www.state.nj.us/state/museum/, kits: NanoDays, 
NJ, Trenton, Trenton Free Public Library, http://www.trentonlib.org, kits: NanoDays, 
NJ, West Windsor, Mercer County Community College, http://www.mccc.edu, kits: Let's Do Chemistry, 
NJ, Woodland Park, North Jersey Section - American Chemical Society (ACS) , http://www.njacs.org, kits: Let's Do Chemistry, 
NM, Alamogordo, New Mexico Museum of Space History, http://www.nmspacemuseum.org, kits: Earth & Space, NanoDays, 
NM, Albuquerque, Explora, http://www.explora.us, kits: Let's Do Chemistry, Earth & Space, NanoDays, 
NM, Albuquerque, Girl Scouts of New Mexico Trails, http://nmgirlscouts.org, kits: Building with Biology, 
NM, Albuquerque, National Museum of Nuclear Science and History , https://www.nuclearmuseum.org, kits: Earth & Space, NanoDays, 
NM, Albuquerque, New Mexico Museum of Natural History, http://www.nmnaturalhistory.org, kits: Earth & Space, NanoDays, 
NM, Albuquerque, Sandia National Laboratories, http://www.sandia.gov, kits: Let's Do Chemistry, NanoDays, 
NM, Albuquerque, University of New Mexico, http://nsme.unm.edu, kits: Let's Do Chemistry, Building with Biology, NanoDays, 
NM, Farmington, E3 Children's Museum & Science Center, http://www.fmtn.org/223/Museums, kits: Let's Do Chemistry, Earth & Space, NanoDays, 
NM, Las Cruces, Las Cruces Museum of Nature and Science, https://www.lascruces.gov/museums, kits: Let's Do Chemistry, Earth & Space, Building with Biology, NanoDays, 
NM, Los Alamos, Los Alamos National Laboratory- Bradbury Science Museum, http://www.lanl.gov/museum/, kits: Earth & Space, Building with Biology, NanoDays, 
NM, Los Alamos, Pajarito Environmental Education Center, http://peecnature.org, kits: Earth & Space, Frankenstein200, 
NM, Los Alamos, Science Education Solutions - Teen Science Cafe Network, http://cafenm.org/index.html, scieds.com/scieds.org, kits: Building with Biology, 
NM, Mescalero, Mescalero Apache High School, https://www.maschiefs.org, kits: Building with Biology, 
NM, Mescalero, Mescalero Apache School, https://www.maschiefs.org, kits: Building with Biology, 
NM, Roswell, Roswell Museum and Art Center, http://roswell-nm.gov/308/Roswell-Museum-Art-Center, kits: Earth & Space, 
NM, Santa Fe, Santa Fe Children's Museum , http://www.santafechildrensmuseum.org/, kits: Earth & Space, 
NV, Las Vegas, Discovery Children's Museum, http://www.discoverykidslv.org/, kits: Let's Do Chemistry, Earth & Space, Building with Biology, NanoDays, 
NV, Las Vegas, University of Nevada, Las Vegas (UNLV), ACS Southern Nevada Section, https://www.unlv.edu, http://snevada.sites.acs.org/, kits: NanoDays, 
NV, North Las Vegas, College of Southern Nevada Planetarium, https://www.csn.edu/planetarium-events, kits: Earth & Space, 
NV, Reno, Terry Lee Wells Nevada Discovery Museum, https://nvdm.org, kits: Let's Do Chemistry, Earth & Space, Building with Biology, SustainABLE, NanoDays, 
NV, Reno, University of Nevada, Reno - Fleischmann Planetarium and Science Center, http://www.planetarium.unr.edu/index.html, kits: Earth & Space, 
NY, Albany, New York State Museum, http://www.nysm.nysed.gov, kits: NanoDays, 
NY, Albany, SUNY Polytechnic Institute, https://sunypoly.edu, kits: NanoDays, 
NY, Binghamton, SUNY Binghamton, http://www2.binghamton.edu/chemistry/, kits: Let's Do Chemistry, NanoDays, 
NY, Bronx, Bronx Community College of CUNY, www.bcc.cuny.edu, kits: NanoDays, 
NY, Brooklyn, Brooklyn Children's Museum, www.brooklynkids.org, kits: NanoDays, 
NY, Brooklyn, Genspace NYC, www.genspace.org, kits: Building with Biology, 
NY, Buffalo, Buffalo Museum of Science, http://www.sciencebuff.org, kits: Let's Do Chemistry, Earth & Space, Building with Biology, SustainABLE, NanoDays, 
NY, Centerport, Vanderbilt Museum, http://www.vanderbiltmuseum.org, kits: Earth & Space, 
NY, Corning, Regional Science & Discovery Center, http://sciencediscoverycenter.org, kits: Let's Do Chemistry, Building with Biology, NanoDays, 
NY, Corona, New York Hall of Science (NYSCI), https://nysci.org, kits: Earth & Space, Building with Biology, SustainABLE, NanoDays, 
NY, Garden City, Cradle of Aviation Museum, https://www.cradleofaviation.org, kits: Let's Do Chemistry, Earth & Space, 
NY, Garden City, Long Island Children's Museum (LICM), https://www.licm.org, kits: Let's Do Chemistry, Earth & Space, NanoDays, 
NY, Hamilton, Colgate University - Ho Tung Visualization Laboratory, https://www.hotungvislab.org, kits: Earth & Space, Frankenstein200, 
NY, Hempstead, Hofstra University, http://www.hofstra.edu/faculty/ideas/, kits: NanoDays, 
NY, Ithaca, Cornell University, https://www.cornell.edu, kits: Building with Biology, 
NY, Ithaca, Cornell University Center for Materials Research (CCMR), https://www.ccmr.cornell.edu, kits: NanoDays, 
NY, Ithaca, Cornell University Nanobiotechnology Center (NBTC), http://www.nbtc.cornell.edu, kits: NanoDays, 
NY, Ithaca, Cornell University NanoScale Science and Technology Facility (CNF), http://www.cnf.cornell.edu/, kits: NanoDays, 
NY, Ithaca, Sciencenter, http://www.sciencenter.org, kits: Let's Do Chemistry, Earth & Space, Building with Biology, SustainABLE, NanoDays, 
NY, Jamaica, Queens Public Library - Children's Library Discovery Center, http://www.queenslibrary.org/kids/discovery, kits: Building with Biology, NanoDays, 
NY, Kings Point, New York Local Section - American Chemical Society (ACS) , http://newyorkacs.org/, kits: Let's Do Chemistry, Frankenstein200, 
NY, Loudonville, Dudley Observatory, http://dudleyobservatory.org, kits: Earth & Space, 
NY, New York, American Museum of Natural History (AMNH), http://www.amnh.org, kits: Earth & Space, NanoDays, 
NY, New York, Columbia University, http://engineering.columbia.edu, kits: NanoDays, 
NY, New York, Hunter College of the City University of New York, www.hunter.cuny.edu, kits: NanoDays, 
NY, New York, Intrepid Sea, Air and Space Museum, https://www.intrepidmuseum.org, kits: Earth & Space, 
NY, New York, New York Public Library, https://www.nypl.org, kits: 
NY, New York, New York University, Tisch School of the Arts, http://tisch.nyu.edu, kits: Frankenstein200, NanoDays, 
NY, New York, STEM Kids NYC, stemkidsnyc.org, kits: Building with Biology, 
NY, Oneonta, AJ Read Science Discovery Center at SUNY Oneonta, http://www.oneonta.edu/academics/sdc/, kits: Let's Do Chemistry, Earth & Space, Building with Biology, NanoDays, 
NY, Port Jefferson, Long Island Explorium, https://longislandexplorium.org, kits: Let's Do Chemistry, Earth & Space, Building with Biology, NanoDays, 
NY, Poughkeepsie, Mid-Hudson Children's Museum, http://mhcm.org, kits: Earth & Space, Frankenstein200, 
NY, Rochester, Rochester Institute of Technology (RIT), http://www.rit.edu, kits: Earth & Space, NanoDays, 
NY, Rochester, Rochester Museum & Science Center (RMSC), http://rmsc.org, kits: Earth & Space, Building with Biology, SustainABLE, NanoDays, 
NY, Rochester, University of Rochester, https://www.rochester.edu, kits: NanoDays, 
NY, Rye, Westchester Children's Museum, http://www.discoverwcm.org, kits: Let's Do Chemistry, Earth & Space, 
NY, Saratoga Springs, The Childrenís Museum at Saratoga, http://cmssny.org/, kits: Let's Do Chemistry, Earth & Space, Frankenstein200, 
NY, Schenectady, miSci Museum of Innovation and Science, http://www.misci.org, kits: Let's Do Chemistry, Earth & Space, Building with Biology, NanoDays, 
NY, Selden, Suffolk County Community College, www.sunysuffolk.edu, kits: NanoDays, 
NY, Staten Island, Staten Island Children's Museum, http://sichildrensmuseum.org, kits: NanoDays, 
NY, Stony Brook, Stony Brook University, http://www.stonybrook.edu, kits: Building with Biology, NanoDays, 
NY, Syosset, South Woods Middle School (Syossett Central School District), http://syosset.k12.ny.us/, kits: NanoDays, 
NY, Syracuse, Milton J. Rubenstein Museum of Science & Technology (MoST), http://www.most.org, kits: Let's Do Chemistry, Earth & Space, Building with Biology, SustainABLE, NanoDays, 
NY, Troy, Children's Museum of Science & Technology (CMOST), http://www.cmost.org, kits: Let's Do Chemistry, Earth & Space, Building with Biology, NanoDays, 
NY, Troy, Rensselaer Polytechnic Institute (RPI), www.materialadvantage.union.rpi.edu/, http://eng.rpi.edu/outreach, kits: NanoDays, 
NY, Tupper Lake, The Wild Center, https://www.wildcenter.org/, kits: Earth & Space, 
NY, Upton, Brookhaven National Laboratory's Science Learning Center (BNL), https://www.bnl.gov/education/, kits: Let's Do Chemistry, Earth & Space, Building with Biology, NanoDays, 
NY, Utica, Mohawk Valley Community College, http://www.mvcc.edu/stem-center/, kits: Building with Biology, NanoDays, 
NY, Utica, Utica Children's Museum, http://uticacm.org, kits: Earth & Space, 
NY, Vestal, Kopernik Observatory & Science Center, http://www.kopernik.org, kits: Earth & Space, 
NY, Yonkers, Hudson River Museum - Andrus Planetarium, http://www.hrm.org/index.html, kits: Earth & Space, 
OH, Akron, Akron Children's Museum, http://www.akronkids.org, kits: Earth & Space, 
OH, Bay Village, Lake Erie Nature & Science Center, http://www.lensc.org, kits: Earth & Space, 
OH, Cincinnati, Cincinnati Museum Center, https://www.cincymuseum.org, kits: Earth & Space, SustainABLE, NanoDays, 
OH, Cincinnati, Cincinnati Observatory Center, http://www.cincinnatiobservatory.org, kits: Earth & Space, 
OH, Cincinnati, University of Cincinnati, www.physics.uc.edu, kits: NanoDays, 
OH, Cleveland, Children's Museum of Cleveland, http://www.clevelandchildrensmuseum.org, kits: NanoDays, 
OH, Cleveland, Cleveland Museum of Natural History, www.cmnh.org, kits: Frankenstein200, SustainABLE, 
OH, Cleveland, East High Educational Campus/Academy of Creative Expression, n/a, kits: NanoDays, 
OH, Cleveland, Great Lakes Science Center, http://greatscience.com, kits: Let's Do Chemistry, Earth & Space, SustainABLE, NanoDays, 
OH, Columbus, Center of Science and Industry (COSI), http://cosi.org, kits: Earth & Space, SustainABLE, NanoDays, 
OH, Columbus, Columbus Section  - American Chemical Society (ACS) , https://www.columbus.sites.acs.org, kits: Let's Do Chemistry, 
OH, Columbus, Ohio State University, www.osu.edu, kits: Building with Biology, 
OH, Dayton, Boonshoft Museum of Discovery, http://boonshoftmuseum.org, kits: Earth & Space, Building with Biology, NanoDays, 
OH, Findlay, Children's Museum of Findlay, http://www.cmfindlay.org, kits: Earth & Space, 
OH, Independence, St. Michael School, https://www.stmichaelschoolinfo.com, kits: NanoDays, 
OH, Middletown, Miami University Middletown, Center for Chemistry Education, http://miamioh.edu, kits: NanoDays, 
OH, Mount Vernon, SPI Spot, http://www.spi-mountvernon.org, kits: Let's Do Chemistry, Earth & Space, Building with Biology, NanoDays, 
OH, Newark, The Works: Ohio Center for History, Art and Technology, http://attheworks.org, kits: Let's Do Chemistry, Earth & Space, 
OH, Springfield, STEM Kids Champion City, stemkidsnyc.org, kits: Building with Biology, 
OH, Sylvania, Lourdes University - Appold Planetarium, http://www.lourdes.edu/about-lourdes/outreach/appold-planetarium/, kits: Earth & Space, 
OH, Toledo, Imagination Station, https://www.imaginationstationtoledo.org, kits: Earth & Space, NanoDays, 
OH, Toledo, Toledo Section - American Chemical Society (ACS) , https://www.facebook.com/ToledoSectionACS/, kits: Let's Do Chemistry, 
OH, Toledo, University of Toledo - Ritter Planetarium, http://www.utoledo.edu/nsm/rpbo/, kits: Earth & Space, 
OH, Yellow Springs, Yellow Springs Science Castle, http://www.yellowspringsohio.org/event/yellow-springs-science-castle/, kits: Earth & Space, 
OH, Youngstown, OH WOW! The Roger and Gloria Jones Children's Center for Science and Technology, http://ohwowkids.org, kits: Earth & Space, Building with Biology, 
OH, Youngstown, Youngstown State University - Ward Beecher Planetarium, http://www.wbplanetarium.org/, kits: Earth & Space, Frankenstein200, 
OK, Enid, Leonardo's Discovery Center (Enid Arts & Science Foundation), https://www.leonardos.org, kits: Earth & Space, Building with Biology, NanoDays, 
OK, Fletcher, Elgin Middle School, http://elginps.sharpschool.net, kits: Frankenstein200, NanoDays, 
OK, Oklahoma City, Oklahoma Museum Network, www.oklahomamuseumnetwork.org, kits: NanoDays, 
OK, Oklahoma City, Science Museum Oklahoma, https://www.sciencemuseumok.org, kits: Earth & Space, NanoDays, 
OK, Tulsa, Discovery Lab (formerly Tulsa Children's Museum ), http://www.tulsachildrensmuseum.org/, kits: Let's Do Chemistry, Earth & Space, Building with Biology, NanoDays, 
OK, Tulsa, Tulsa Air & Space Museum & Planetarium, http://www.tulsaairandspacemuseum.org, kits: Earth & Space, 
OR, Ashland, ScienceWorks Hands-On Museum, http://www.scienceworksmuseum.org, kits: Earth & Space, Building with Biology, NanoDays, 
OR, Boardman, Oregon Trail Library District, www.oregontrail.plinkit.org, kits: NanoDays, 
OR, Corvallis, Oregon State University's SMILE Program, http://smile.oregonstate.edu/, kits: NanoDays, 
OR, Eugene, Eugene Science Center, https://eugenesciencecenter.org/, kits: Let's Do Chemistry, Earth & Space, Building with Biology, NanoDays, 
OR, Fossil, Libraries of Eastern Oregon, http://librariesofeasternoregon.org/wp-site/, kits: Frankenstein200, NanoDays, 
OR, Klamath Falls, Starbase Kingsley , https://dodstarbase.org, kits: NanoDays, 
OR, La Grande, Eastern Oregon University, https://www.eou.edu, kits: Let's Do Chemistry, 
OR, McMinnville, Evergreen Aviation & Space Museum, https://www.evergreenmuseum.org/, kits: Earth & Space, 
OR, Milton-Freewater, Milton-Freewater Public Library, http://www.mfcity.com/library, kits: NanoDays, 
OR, Newport, Hatfield Marine Science Center Visitor Center: Oregon State University, https://hmsc.oregonstate.edu/visitor-center/, kits: Earth & Space, 
OR, Portland, Oregon Museum of Science and Industry (OMSI), https://omsi.edu, kits: Let's Do Chemistry, Earth & Space, Building with Biology, SustainABLE, NanoDays, 
OR, Salem, A.C. Gilbert Discovery Village, www.acgilbert.org/, kits: NanoDays, 
PA, Allentown, Da Vinci Science Center, https://www.davincisciencecenter.org, kits: Earth & Space, NanoDays, 
PA, Bethlehem, Lehigh University, https://www1.lehigh.edu, kits: NanoDays, 
PA, Clarion, Clarion University, www.clarion.edu, kits: NanoDays, 
PA, Downing, American Helicopter Museum, http://americanhelicopter.museum/, kits: Earth & Space, 
PA, Easton, Nurture Nature Center, Nurture Nature Foundation, http://www.nurturenaturecenter.org/, kits: Earth & Space, 
PA, Edinboro, Edinboro University, https://www.edinboro.edu/, kits: Earth & Space, 
PA, Erie, ExpERIEnce Childrenís Museum, http://www.eriechildrensmuseum.org/, kits: Earth & Space, 
PA, Erie, Gannon University, http://www.gannon.edu, kits: Let's Do Chemistry, Earth & Space, Building with Biology, NanoDays, 
PA, Gladwyne, Riverbend Environmental Education Center, http://www.riverbendeec.org, kits: Earth & Space, 
PA, Harrisburg, Whitaker Center for Science and the Arts, www.whitakercenter.org, kits: NanoDays, 
PA, Lancaster, Lancaster Science Factory, https://www.lancastersciencefactory.org, kits: Earth & Space, NanoDays, 
PA, Lancaster, North Museum of Nature and Science, https://northmuseum.org, kits: Earth & Space, NanoDays, 
PA, Lewisburg, Lewisburg Children's Museum, https://www.lewisburgchildrensmuseum.org, kits: Let's Do Chemistry, Earth & Space, 
PA, North Versailles, Starbase Atlantis Pittsburgh (US Navy STEM Community Outreach), www.starbasedod.org, kits: Frankenstein200, NanoDays, 
PA, Oil City, Venango Museum of Art, Science and Industry, https://www.venangomuseum.org/, kits: Earth & Space, 
PA, Philadelphia, Drexel University, www.materials.drexel.edu, kits: NanoDays, 
PA, Philadelphia, Franklin Institute, https://www.fi.edu, kits: Let's Do Chemistry, Earth & Space, Building with Biology, SustainABLE, NanoDays, 
PA, Philadelphia, Please Touch Museum, https://www.pleasetouchmuseum.org/, kits: Let's Do Chemistry, Earth & Space, 
PA, Philadelphia, University of Pennsylvania Singh Center for Nanotechnology, https://www.nano.upenn.edu, kits: NanoDays, 
PA, Philadelphia,, Rosenbach Museum and Library, https://rosenbach.org, kits: 
PA, Pittsburgh, Carnegie Science Center, http://www.carnegiesciencecenter.org, kits: Let's Do Chemistry, Earth & Space, NanoDays, 
PA, Pittsburgh, Children's Museum of Pittsburgh, www.pittsburghkids.org, kits: NanoDays, 
PA, Pittsburgh, Department of Energy - National Energy Technology Laboratory (DOE), http://www.netl.doe.gov/, kits: Let's Do Chemistry, Earth & Space, 
PA, Reading, Reading Public Museum, Neag Planetarium, http://www.readingpublicmuseum.org/museum, kits: Earth & Space, 
PA, State College, Discovery Space of Central Pennsylvania, https://mydiscoveryspace.org, kits: Let's Do Chemistry, Earth & Space, Building with Biology, NanoDays, 
PA, State College, Penn State University (PSU) Nanotechnology Application and Career Knowledge Center NACK, www.nano4me.org , kits: NanoDays, 
PA, State College , Penn State University, MRSEC-Center for Nanoscale Science, http://www.mrsec.psu.edu/, www.nano4me.org, kits: NanoDays, 
PA, Waynesboro, Lykens Valley Children's Museum, http://www.lykensvalleychildrensmuseum.org, kits: Earth & Space, 
PA, West Chester, West Chester University Mather Planetarium, https://wcupa.edu/sciences-mathematics/earthSpaceSciences/planetarium/, kits: Earth & Space, 
PR, Arecibo, Arecibo Observatory - Angel Ramos Foundation Visitor Center, http://outreach.naic.edu/ao/, kits: Let's Do Chemistry, Earth & Space, Building with Biology, NanoDays, 
PR, Arecibo, University of Puerto Rico at Arecibo, http://www.upra.edu/, kits: Let's Do Chemistry, 
PR, Gurabo, Universidad del Turabo, http://ut.suagm.edu, kits: NanoDays, 
PR, Humacao, University of Puerto Rico at Humacao, prem.uprh.edu, kits: NanoDays, 
PR, Mayaguez, University of Puerto Rico - Mayaguez Campus, www.uprm.edu, kits: NanoDays, 
PR, San Juan, University of Puerto Rico, Rio Piedras Campus - Institute for Functional Nanomaterials, www.ifn.upr.edu, kits: NanoDays, 
RI, Lincoln, Skyscrapers, Inc. (Seagrave Observatory), http://www.theskyscrapers.org, kits: Earth & Space, 
RI, Newport, STARBASE-Atlantis, NAVSTA Newport, RI, starbasedod.com, kits: NanoDays, 
RI, Providence, Providence Children's Museum, www.childrenmuseum.org, kits: NanoDays, 
RI, Providence, Rhode Island Museum of Science and Art (RIMOSA), http://rimosa.org, kits: Let's Do Chemistry, Earth & Space, NanoDays, 
RI, Providence, Roger Williams Park Museum of Natural History and Planetarium, http://providenceri.com/museum, kits: Earth & Space, Frankenstein200, 
SC, Charleston, Children's Museum of the Lowcountry, http://explorecml.org/cml/, kits: Earth & Space, 
SC, Columbia, EdVenture Children's Museum, edventure.org, kits: NanoDays, 
SC, Columbia, South Carolina State Museum, https://www.scmuseum.org, kits: Earth & Space, NanoDays, 
SC, Columbia, University of South Carolina, https://www.sc.edu/, kits: Let's Do Chemistry, 
SC, Greenville, Children's Museum of the Upstate, www.tcmupstate.org, kits: Building with Biology, 
SC, Greenville, Roper Mountain Science Center, https://ropermountain.org, kits: Earth & Space, NanoDays, 
SC, Hilton Head Island, The Sandbox: An Interactive Children's Museum, http://www.thesandbox.org, kits: Let's Do Chemistry, Earth & Space, Building with Biology, 
SC, Myrtle Beach, Children's Museum of South Carolina, www.cmsckids.org, kits: Earth & Space, Frankenstein200, Building with Biology, NanoDays, 
SC, Rock Hill, Museum Of York County - Main Street Childrenís Museum, Culture & Heritage Museums, http://www.chmuseums.org/myco/, kits: Let's Do Chemistry, Earth & Space, Frankenstein200, 
SD, Brookings, South Dakota State University, https://www.sdstate.edu, kits: NanoDays, 
SD, Brookings , Children's Museum of South Dakota , http://prairieplay.org/, kits: Let's Do Chemistry, Earth & Space, 
SD, Lead, Sanford Underground Laboratory at Homestake, http://www.sanfordundergroundlaboratoryathomestake.org/index.php?option…, kits: NanoDays, 
SD, Pierre, South Dakota Discovery Center, https://sd-discovery.org, kits: Let's Do Chemistry, Earth & Space, Building with Biology, NanoDays, 
SD, Sioux Falls, Kirby Science Discovery Center at the Washington Pavilion of Arts and Science, https://www.washingtonpavilion.org, kits: Let's Do Chemistry, Earth & Space, NanoDays, 
TN, Chattanooga, Creative Discovery Museum, http://www.cdmfun.org, kits: Let's Do Chemistry, Earth & Space, Building with Biology, NanoDays, 
TN, Gray, Hands On! Discovery Center (Formerly: Hands On! Regional Museum), https://visithandson.org, kits: Earth & Space, Frankenstein200, NanoDays, 
TN, Knoxville, Muse Knoxville, https://www.themuseknoxville.org/, kits: Let's Do Chemistry, Earth & Space, Building with Biology, NanoDays, 
TN, Knoxville, University of Tennessee, Knoxville, https://www.utk.edu, kits: NanoDays, 
TN, Martin, University of Tennessee at Martin, http://www.utm.edu, kits: Let's Do Chemistry, 
TN, Memphis, Memphis University School - Memphis Local Section - American Chemical Society (ACS) , https://www.musowls.org/page/about; www.acs.org, kits: Let's Do Chemistry, Frankenstein200, 
TN, Memphis, Memphis Zoo, www.memphiszoo.org, kits: NanoDays, 
TN, Memphis, Pink Palace Museum, http://www.memphismuseums.org/, kits: Let's Do Chemistry, Earth & Space, Building with Biology, NanoDays, 
TN, Memphis, University of Tennessee Health Science Center, https://www.uthsc.edu, kits: NanoDays, 
TN, Murfreesboro, Discovery Center at Murfree Spring, https://explorethedc.org, kits: Let's Do Chemistry, Earth & Space, 
TN, Murfreesboro, Middle Tennessee State University (MTSU), www.mtsu.edu, kits: Frankenstein200, Building with Biology, NanoDays, 
TN, Nashville, Adventure Science Center, http://www.adventuresci.org, kits: Let's Do Chemistry, Earth & Space, Building with Biology, SustainABLE, NanoDays, 
TN, Nashville, Vanderbilt University, https://www.vanderbilt.edu, kits: NanoDays, 
TN, Oak Ridge, American Museum of Science and Energy (AMSE), http://amse.org, kits: Earth & Space, NanoDays, 
TN, Sparta, White County High School, http://www.whitecountyhighschool.com, kits: NanoDays, 
TN, Union City, Discovery Park of America, http://www.discoveryparkofamerica.com, kits: Earth & Space, 
TX, Amarillo, Don Harrington Discovery Center (DHDC), http://www.discoverycenteramarillo.org, kits: Earth & Space, Building with Biology, SustainABLE, NanoDays, 
TX, Arlington, AHETEMS (Advancing Hispanic Excellence in Technology, Engineering, Math and Science), http://www.shpefoundation.org/, kits: NanoDays, 
TX, Arlington, University of Texas at Arlington, https://www.uta.edu/planetarium/, kits: Earth & Space, 
TX, Austin, Capitol Area Council, Boy Scouts of America, STEM Scouts, www.bsacac.org, kits: Building with Biology, 
TX, Austin, Central Texas Local Section - American Chemical Society (ACS) , https://centraltexasacs.sites.acs.org, kits: Let's Do Chemistry, 
TX, Austin, Thinkery (Austin Children's Museum), https://thinkeryaustin.org, kits: Let's Do Chemistry, Earth & Space, Building with Biology, NanoDays, 
TX, Austin, University of Texas at Austin, Microelectronics Research Center, www.mrc.utexas.edu/, kits: NanoDays, 
TX, Beaumont, Beaumont Children's Museum, https://www.beaumontchildrensmuseum.org, kits: Let's Do Chemistry, Earth & Space, Frankenstein200, 
TX, Brownsville, Children's Museum of Brownsville, http://cmofbrownsville.org, kits: Let's Do Chemistry, Earth & Space, Building with Biology, NanoDays, 
TX, Canyon, West Texas A&M University (WTAMU), http://www.wtamu.edu/academics/emily-hunt-bio.aspx, kits: Let's Do Chemistry, 
TX, College Station, Texas A&M University (TAMU), http://tiims.tamu.edu/index.php, kits: Let's Do Chemistry, Building with Biology, 
TX, Corpus Christi, Corpus Christi Museum of Science and History, https://www.ccmuseum.com, kits: Earth & Space, Building with Biology, NanoDays, 
TX, Dallas, Frontiers of Flight Museum, https://www.flightmuseum.com, kits: Earth & Space, 
TX, Dallas, Perot Museum of Nature and Science, https://www.perotmuseum.org, kits: Let's Do Chemistry, Earth & Space, Building with Biology, NanoDays, 
TX, Denton, Explorium Denton Children's Museum, https://www.exploriumdenton.org/, kits: Earth & Space, 
TX, El Paso, Boys & Girls Clubs of El Paso, www.bgcelpaso.org, kits: NanoDays, 
TX, El Paso, El Paso Children's Museum, https://epcf.org/childrens_museum, kits: Let's Do Chemistry, Earth & Space, 
TX, El Paso, El Paso Water Utilities Carlos M. Ramirez TecH20 Water Resources Learning Center, tech2o.org, kits: Frankenstein200, NanoDays, 
TX, El Paso, Insights El Paso , http://www.insightselpaso.org, kits: Earth & Space, 
TX, Fort Worth, Fort Worth Museum of Science and History, https://www.fwmuseum.org, kits: Let's Do Chemistry, Earth & Space, NanoDays, 
TX, Frisco, Sci-Tech Discovery Center, http://mindstretchingfun.org, kits: Let's Do Chemistry, Earth & Space, Building with Biology, NanoDays, 
TX, Galveston, Galveston Children's Museum, http://www.tamug.edu/seacamp, kits: Let's Do Chemistry, Earth & Space, 
TX, Harlingen, Challenger Learning Center at Texas State Technical College- Harlingen, http://www.tstc.edu/harlingenchallenger/, kits: Let's Do Chemistry, Earth & Space, 
TX, Houston, Children's Museum of Houston, http://www.cmhouston.org, kits: Let's Do Chemistry, Earth & Space, Building with Biology, NanoDays, 
TX, Houston, Health Museum, www.thehealthmuseum.org, kits: NanoDays, 
TX, Houston, Rice University, http://ibb.rice.edu, http://memsweb.rice.edu/, kits: Building with Biology, NanoDays, 
TX, Houston, Space Center Houston (Johnson Space Center), http://spacecenter.org, kits: Earth & Space, Frankenstein200, 
TX, Houston, The Methodist Hospital Research Institute, www.methodistresearch.com, kits: NanoDays, 
TX, Lackland AFB, Starbase Kelly, https://dodstarbase.org, kits: NanoDays, 
TX, Laredo, Imaginarium of South Texas, https://www.istx.org/, kits: Earth & Space, Building with Biology, NanoDays, 
TX, Laredo, Informal Science Learning Associates (ISLA), www.wowsciencelaredo.com, kits: NanoDays, 
TX, Longview , Longview "WOW" World Of Wonders, www.longviewwow.org, kits: Building with Biology, 
TX, Lubbock, Science Spectrum, http://www.sciencespectrum.org, kits: Let's Do Chemistry, Earth & Space, Building with Biology, NanoDays, 
TX, Lubbock, Texas Tech University, http://www.ttu.edu/, kits: NanoDays, 
TX, Marble Falls, Marble Falls Middle School, https://www.marblefallsisd.org, kits: NanoDays, 
TX, McAllen, International Museum of Art and Science (IMAS), http://theimasonline.org/welcome/, kits: Earth & Space, Building with Biology, 
TX, McAllen, South Texas College, https://www.southtexascollege.edu, kits: Let's Do Chemistry, NanoDays, 
TX, Midland, Midland College ACS student chapter, https://midland.edu, kits: Let's Do Chemistry, 
TX, Midland, Permian Basin Petroleum Museum, petroleummuseum.org, kits: Building with Biology, 
TX, Midland, Sibley Nature Center, sibleynaturecenter.org, kits: Earth & Space, 
TX, Richardson, University of Texas at Dallas, http://nanotech.utdallas.edu/, kits: NanoDays, 
TX, San Antonio, San Antonio College - Scobee Edcuation Center, , http://sacscobee.education, kits: Earth & Space, 
TX, San Antonio, St Philip's College Center of Excellence for Science, http://www.alamo.edu/spc/, kits: Building with Biology, 
TX, San Antonio, The DoSeum, San Antonioís Museum for Kids, http://www.thedoseum.org/, kits: Earth & Space, NanoDays, 
TX, San Antonio, Witte Museum, https://www.wittemuseum.org, kits: Earth & Space, 
TX, Sugar Land, The Houston Museum of Natural Science, http://www.hmns.org, kits: Earth & Space, 
TX, Texarkana, Texarkana Museums System, http://www.texarkanamuseums.org, kits: Let's Do Chemistry, Earth & Space, NanoDays, 
TX, The Woodlands, The Woodlands Children's Museum, http://woodlandschildrensmuseum.org, kits: Earth & Space, NanoDays, 
TX, Tyler, Discovery Science Place, http://www.discoveryscienceplace.org, kits: Earth & Space, NanoDays, 
TX, Victoria, Children's Discovery Museum of the Golden Crescent, http://www.cdmgoldencrescent.com, kits: Let's Do Chemistry, Earth & Space, NanoDays, 
TX, Waco, Baylor University Center for Astrophysics Space Physics and Engineering Research (CASPER), www.baylor.edu/casper/index.php?id=20323, kits: NanoDays, 
TX, Waco, Mayborn Museum Complex, http://www.baylor.edu/mayborn/, kits: Let's Do Chemistry, Earth & Space, 
TX, Waco, Texas State Technical College - Challenger Learning Center - Waco, http://www.tstc.edu/challenger, kits: Earth & Space, 
USVI, Charlotte Amalie, Saint Thomas, University of the Virgin Islands, http://www.uvi.edu, kits: NanoDays, 
UT, Ephraim, Snow College Planetarium, https://www.snow.edu/planetarium, kits: Earth & Space, Frankenstein200, 
UT, Lehi, Thanksgiving Point Institute, Museum of Natural Curiosity, http://www.thanksgivingpoint.org, kits: Earth & Space, Building with Biology, NanoDays, 
UT, Logan, Utah State University iGEM Team, https://be.usu.edu/research-design/labs-subpages/igem-research-lab, kits: Building with Biology, 
UT, Monticello, Canyon Country Discovery Center, https://ccdiscovery.org/, kits: Earth & Space, 
UT, Ogden, Utah State University 4-H Extension, https://extension.usu.edu/weber/4H, kits: Let's Do Chemistry, Earth & Space, 
UT, Salt Lake City, Clark Planetarium, https://slco.org/clark-planetarium/, kits: Earth & Space, 
UT, Salt Lake City, Natural History Museum of Utah, http://www.nhmu.utah.edu, kits: Earth & Space, Building with Biology, NanoDays, 
UT, Salt Lake City, The Leonardo (Utah Science Center), www.theleonardo.org, kits: NanoDays, 
UT, Salt Lake City, University of Utah, http://web.utah.edu/astro/, kits: Earth & Space, 
UT, Salt Lake City, Utah State Office of Education, http://www.schools.utah.gov/cte/, kits: NanoDays, 
UT, Salt Lake City, Utah State University - Salt Lake City, https://www.usu.edu, kits: Let's Do Chemistry, 
UT, Salt Lake City, Westminister College (ACS), http://westminstercollege.edu, kits: Let's Do Chemistry, 
VA, Arlington, National Nanotechnology Coordination Office (NNCO), www.nano.gov, kits: NanoDays, 
VA, Ashburn, Broad Run High School, http://www.loudoun.k12.va.us/Page/6094, kits: Frankenstein200, Building with Biology, 
VA, Blacksburg, Virginia Tech, http://www.sun.ictas.vt.edu/, kits: NanoDays, 
VA, Charlottesville, National Radio Astronomy Observatory (NRAO), public.nrao.edu, kits: Earth & Space, 
VA, Charlottesville, Open Bio Labs, openbiolabs.org, kits: Building with Biology, 
VA, Charlottesville, University of Virginia, https://engineering.virginia.edu/research/centers-institutes/nanostar-i…, kits: NanoDays, 
VA, Christiansburg, Wonder Universe (Formerly Children's Museum of Blacksburg), http://www.wonderuniverse.org/, kits: Let's Do Chemistry, Earth & Space, 
VA, Danville, Danville Science Center, http://dsc.smv.org, kits: Let's Do Chemistry, Earth & Space, NanoDays, 
VA, Danville, Institute for Advanced Learning and Research, www.ialr.org, kits: NanoDays, 
VA, Fairfax, Children's Science Center, https://childsci.org, kits: Let's Do Chemistry, Earth & Space, NanoDays, 
VA, Fairfax, George Mason University - Potomac Environmental Research and Education Center, http://ncc.gmu.edu/people/csmitc, kits: Building with Biology, 
VA, Great Falls,  Great Falls Public Library, http://www.fairfaxcounty.gov/library/, kits: Building with Biology, 
VA, Hampden-Sydney, Hampden-Sydney College, http://www.hsc.edu, kits: Building with Biology, 
VA, Hampton, National Institute of Aerospace (NIA), www.nianet.org, kits: NanoDays, 
VA, Hampton, Virginia Air and Space Center, http://www.vasc.org, kits: Let's Do Chemistry, Earth & Space, 
VA, Harrisonburg, James Madison University, http://www.jmu.edu, kits: NanoDays, 
VA, Lynchburg, Amazement Square - The Rightmire Children's Museum, http://www.amazementsquare.org, kits: Earth & Space, 
VA, Newport News, Virginia Living Museum, http://thevlm.org, kits: Earth & Space, 
VA, Norfolk, Norfolk State University, Center for Materials Research, www.nsu.edu, kits: Building with Biology, NanoDays, 
VA, Petersburg, Virginia State University, www.vsu.edu, kits: NanoDays, 
VA, Portsmouth, Childrenís Museum of Virginia - Portsmouth Museums, http://www.childrensmuseumva.com/, kits: Earth & Space, Building with Biology, 
VA, Radford, Radford University/Radford University Planetarium, http://www.radford.edu/planetarium, kits: Earth & Space, 
VA, Richmond, Science Museum of Virginia, https://www.smv.org, kits: Earth & Space, NanoDays, 
VA, Roanoke, Science Museum of Western Virginia, http://smwv.org, kits: Earth & Space, NanoDays, 
VA, South Boston, Halifax County Middle School, http://www.halifax.k12.va.us/schools/middleschool/news, kits: NanoDays, 
VA, Vienna, Department of the Treasury (DOTreas) , http://www.nano.gov/node/597, MoneyFactory.Gov, kits: Frankenstein200, NanoDays, 
VA, Wallops Island, NASA Wallops Flight Facility, https://www.nasa.gov/centers/wallops/visitorcenter, kits: Let's Do Chemistry, Earth & Space, 
VA, Williamsburg, College of William and Mary, www.wm.edu, kits: Building with Biology, 
VA, Winchester, Shenandoah Valley Discovery Museum, http://www.discoverymuseum.net/, kits: Let's Do Chemistry, Earth & Space, Building with Biology, 
VA, Woodbridge, Irene V. Hylton Planetarium, http://www.hyltonplanetarium.com, kits: Earth & Space, 
VI, St Thomas, The Virgin Islands  Children's Museum, https://www.vichildrensmuseum.org, kits: Earth & Space, 
VT, Burlington, ECHO Leahy Center for Lake Champlain, http://www.echovermont.org, kits: Let's Do Chemistry, Earth & Space, SustainABLE, NanoDays, 
VT, Burlington, University of Vermont, www.uvm.edu, kits: NanoDays, 
VT, Colchester, Green Mountain Section  - American Chemical Society (ACS), http://greenmntacs.sites.acs.org/, kits: Let's Do Chemistry, 
VT, Norwich, Montshire Museum of Science, http://www.montshire.org, kits: Earth & Space, 
VT, Rutland, Wonderfeet Kids' Museum, https://wonderfeetkidsmuseum.org, kits: Earth & Space, 
VT, Saint Johnsbury, Fairbanks Museum and Planetarium, http://www.fairbanksmuseum.org, kits: Earth & Space, 
WA, Bainbridge Island, Kids Discovery Museum, http://www.kidimu.org, kits: Earth & Space, 
WA, Bellevue, KidsQuest Children's Museum, http://www.kidsquestmuseum.org, kits: Let's Do Chemistry, Earth & Space, NanoDays, 
WA, Everett, Imagine Children's Museum, https://www.imaginecm.org, kits: Let's Do Chemistry, Earth & Space, Building with Biology, 
WA, Lakewood, Pierce College Science Dome, https://www.pierce.ctc.edu/science-dome, kits: Earth & Space, Frankenstein200, 
WA, Langley, Langley Middle School, https://www.sw.wednet.edu, kits: NanoDays, 
WA, Mount Vernon, Skagit Valley College (Puget Sound ACS), https://www.skagit.edu, kits: Let's Do Chemistry, 
WA, OIympia, WET Science Center, www.wetsciencecenter.org, kits: Earth & Space, 
WA, Olympia, Hands On Children's Museum, https://www.hocm.org, kits: Let's Do Chemistry, Earth & Space, NanoDays, 
WA, Olympia, Washington State Dept of Ecology†, Washington State Dept of Ecology†, kits: NanoDays, 
WA, Pullman, Palouse Discovery Science Center, https://www.palousescience.net, kits: Let's Do Chemistry, Earth & Space, Building with Biology, NanoDays, 
WA, Seattle, Pacific Science Center, https://www.pacificsciencecenter.org, kits: Earth & Space, Building with Biology, SustainABLE, NanoDays, 
WA, Seattle, Seattle Hub for Industry-driven Nanotechnology Education (SHINE) (NSCC), www.seattlenano.org, kits: NanoDays, 
WA, Seattle, The Museum of Flight, Seattle, http://www.museumofflight.org/, kits: Earth & Space, 
WA, Seattle, University of Washington MRSEC MEM - C/Clean Energy Institute, https://www.cei.washington.edu, kits: Let's Do Chemistry, Frankenstein200, 
WA, Spokane, Mobius Spokane (Mobius Kids and Mobius Science Center), http://mobiusspokane.org, kits: Let's Do Chemistry, Earth & Space, NanoDays, 
WA, Vancouver, Washington State University - Vancouver, http://www.vancouver.wsu.edu/, kits: NanoDays, 
WA, Walla Walla, The Children's Museum of Walla Walla, https://www.cmww.org, kits: Earth & Space, 
WA, Wenatchee, Wenatchee Valley Museum and Cultural Center, http://www.wenatcheevalleymuseum.org/, kits: Earth & Space, 
WI, Appleton, Atlas Science Center (formerly Paper Discovery Center), https://www.atlassciencecenter.org, kits: Let's Do Chemistry, Earth & Space, Building with Biology, NanoDays, 
WI, Eau Claire, Children's Museum of Eau Claire, http://www.childrensmuseumec.com, kits: Let's Do Chemistry, Earth & Space, Building with Biology, NanoDays, 
WI, Eau Claire, University of Wisconsin, Eau Claire, www.uwec.edu, kits: NanoDays, 
WI, Green Bay, Neville Public Museum, https://www.nevillepublicmuseum.org/, kits: Earth & Space, 
WI, Green Bay, The Children's Museum of Green Bay, http://www.gbchildrensmuseum.org, kits: Let's Do Chemistry, Earth & Space, Building with Biology, NanoDays, 
WI, Hudson, Space St. Croix, a STEAM Educational Nonprofit, https://spacestcroix.org, kits: Earth & Space, 
WI, La Crosse, Children's Museum of LaCrosse, https://www.funmuseum.org, kits: Earth & Space, NanoDays, 
WI, Madison, Madison Children's Museum, www.madisonchildrensmuseum.org, kits: Earth & Space, NanoDays, 
WI, Madison, Madison Metro School District (MMSD) Planetarium, https://planetarium.madison.k12.wi.us/, kits: Earth & Space, 
WI, Madison, Morgridge Institute for Research, https://morgridge.org/, kits: Building with Biology, 
WI, Madison, University of Wisconsin, Madison, https://www.wisc.edu, kits: NanoDays, 
WI, Madison, University of Wisconsin, Madison MRSEC, www.mrsec.wisc.edu/nano, kits: NanoDays, 
WI, Menasha, Barlow Planetarium, http://uwfox.uwc.edu/barlow-planetarium/barlow-planetarium, kits: Earth & Space, 
WI, Milwaukee, Betty Brinn Children's Museum, http://www.bbcmkids.org, kits: Let's Do Chemistry, Earth & Space, NanoDays, 
WI, Milwaukee, Milwaukee Public Museum, Daniel M. Soref Planetarium, http://www.mpm.edu, kits: Let's Do Chemistry, Earth & Space, SustainABLE, 
WI, Milwaukee, Urban Ecology Center, https://urbanecologycenter.org/, kits: Earth & Space, 
WI, Oshkosh, Experimental Aircraft Association (EAA) Airventure, https://www.eaa.org/eaa, kits: Earth & Space, NanoDays, 
WI, Platteville, University of Wisconsin, Platteville, http://www.uwplatt.edu, kits: NanoDays, 
WI, Sheboygan, Above & Beyond Children's Museum, http://abkids.org, kits: Let's Do Chemistry, Earth & Space, NanoDays, 
WI, Sheboygan, Spaceport Sheboygan, http://spaceportsheboygan.com, kits: Earth & Space, Frankenstein200, 
WI, Stevens Point, University of Wisconsin - Stevens Point, http://chemdept-nmr.uwsp.edu/~mzach/, kits: Let's Do Chemistry, 
WI, Wausau, Planetarium of the Wausau School District, http://www.wausauspace.org/, kits: Earth & Space, Frankenstein200, 
WV, Huntington , Marshall University -  West Virginia Science Adventures, http://ssawv.com, kits: Earth & Space, 
WV, Morgantown, Health Sciences and Technology Academy/Morgantown High School, http://www.wv-hsta.org, kits: NanoDays, 
WV, Morgantown, NanoSAFE, West Virginia University, http://wvnano.wvu.edu/education/wvnEhrdoOutreach.html, kits: Building with Biology, NanoDays, 
WV, Morgantown, Spark! Imagination and Science Center, http://sparkwv.org, kits: Let's Do Chemistry, Earth & Space, Building with Biology, NanoDays, 
WV, Morgantown, West Virginia University Extension Service, http://ext.wvu.edu/4h_youth, kits: NanoDays, 
WY, Casper, The Science Zone, http://www.thesciencezone.org, kits: Let's Do Chemistry, Earth & Space, Building with Biology, SustainABLE, NanoDays, 
WY, Lander, Lander Children's Museum, http://www.landerchildrensmuseum.org, kits: Earth & Space, Building with Biology, NanoDays, 
WY, Riverton, Central Wyoming Children's Center for Art, Technology & Science (CATS), http://rivertoncats.com, kits: Earth & Space, 
WY, Thermopolis, Wyoming Dinosaur Center, https://wyomingdinosaurcenter.org, kits: Earth & Space,