NOVEMBER 2022
---
NETWORK NEWS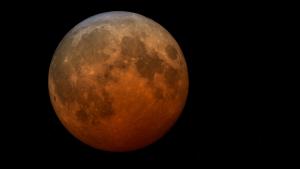 Eyes to the Skies for the Lunar Eclipse! 
Early morning on Tuesday November 8th
A Lunar Eclipse will be visible throughout North America in the very early morning on Tuesday November 8th. On the West Coast maximum will be around 3am Pacific time and on the East Coast maximum will be at about 6am Eastern time. Visit www.timeanddate.com/eclipse/ to find the exact times where you are located. 
If skies are clear, the lunar eclipse will be visible to the unaided eye. It is safe to view a lunar eclipse without any eye protection. Learn more from NASA about the lunar eclipse. 
You can find public engagement lunar eclipse resources at https://www.nisenet.org/lunareclipse
---
UPCOMING EVENTS
Online Workshops
The NISE Network hosts free online workshops as professional development opportunities for our partners to share with and learn from each other. Online workshops take place on select Tuesdays at 2pm-3pm Eastern. View upcoming online workshops at nisenet.org/events
Thank you so much to everyone who joined us for our 2022 online workshops! Please check back soon for more info about our 2023 workshops schedule.
---
PARTNER HIGHLIGHTS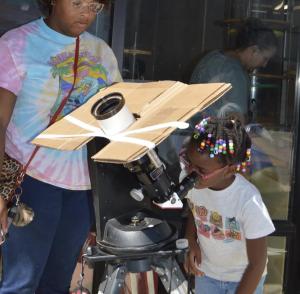 Pensacola MESS Hall Observes the Moon and More for International Observe the Moon Night
On October 1, 2022, Pensacola MESS Hall in Florida hosted an Observe the Moon-themed Curiosity Day. Partnering with the Escambia Amateur Astronomy Association (EAAA), participants had the opportunity for some safe solar viewing during the day, hands-on activities including the NISE Network's Moon Adventure Game, and finally the EAAA led moon-viewing with participants at the beach.
Read more
---
FEATURED ON THE WEBSITE
Recorded NISE Network online workshops
View the recordings and resources from past NISE Net online workshops:
Looking for an easy way to discover resources on the nisenet.org website?
Check out our "Browse by Themes and Topics," featuring curated collections of hands-on activities and resources by themes and STEM topics: nisenet.org/browse-topic
---
COMMUNITY RESOURCES AND ANNOUNCEMENTS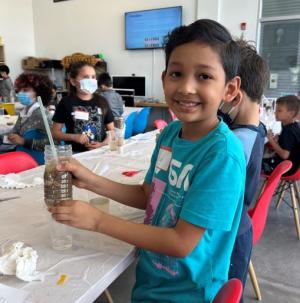 NASA Funding Opportunity
NASA Teams Engaging Affiliated Museums and Informal Institutions (TEAM II) is now accepting proposals for the new Community Anchor Awards for TEAM II (ANCHR), designed to support institutions in strengthening themselves as a local NASA STEM informal education community resource. New Deadline November 14, 2022. Learn more 
NASA International Space Station Downlinks
In-Flight Education Downlinks are opportunities to interact with astronauts aboard the International Space Station through twenty-minute live Q&A sessions. Applications due November 9, 2022. 
Learn more 
Eclipse Ambassador Applications Open 
If you know an undergraduate student or amateur astronomer who would like to share their passion for space science and solar eclipses with your community, the application to become a NASA Partner Eclipse Ambassador is now open!
eclipseambassadors.org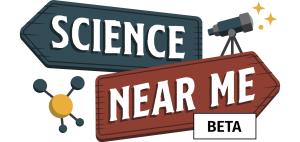 ScienceNearMe 
The new ScienceNearMe.org website hopes to make it easier for people to find STEM experiences to enjoy in their local areas as well as around the country. 
Learn how to get involved 
Gender Equity Printable Posters and Banners 
IF/THEN® has several new collections of printable panels and banners including those for use in early learner and play-based spaces. These graphics are designed to shift cultural perceptions of who works in STEM.
See all the collections
COVID-19 Coronavirus and Vaccine Resources 
NISE Network continues to compile resources as the situation continues to evolve:
---
---
SCIENCE IN THE NEWS
---
EXTREME WEATHER AND ENVIRONMENTAL JUSTICE NEWS
Cities are often hotter than nearby rural areas due to their dense concentration of hard, artificial surfaces that absorb heat and create what's known as an "urban heat island" effect. To investigate what that heat feels like on the ground volunteers explore Raleigh, Durham and Chapel Hill by car, bike and foot to collect data that brings to light systemic inequities that exist within urban heat islands. Watch Video
 
NISE Network resources: 

• Climate Resiliency forms including extreme heat
• Temperature Mapping activity
---
FLYING CARS NEWS
Futuristic transportation was on display at the North American International Auto Show in Detroit with an "Air Mobility Experience" featured in local Detroit tv news video stories.
Watch video
NISE Network resources: 
• Flying Cars hands-on activity
---
MICROSCOPIC NEWS
This year's winner of the Nikon 2022 Small World photo competition was an image of an embryonic hand of a Madagascar giant day gecko. This annual competition focuses on images captured with light microscopes. Check out the gallery of amazing winning images.
Read more
NISE Network resources: 
• Microscopes and Tools for the Small resources
• Size, Scale, and Measurement resources
• Biomimicry resources including gecko images
---
SCIENCE AND SOCIETY NEWS
Why do different people want to engage with science, or not, and why? This recent study examines people's motivations for, and barriers to, participation in science-related engagement activities. 
Read more
NISE Network resources: 
• Societal Aspects of STEM resources
---
SPACE NEWS 
NASA's InSight Lander detected a huge meteoroid impact on Mars which caused a marsquake. The meteoroid also excavated boulder-size chunks of ice – a discovery with implications for NASA's future plans to send astronauts to the Red Planet.
Read more
NISE Network resources: 
• Asteroids, Comets, Meteors, and Meteorites
---
CHEMISTRY NEWS
The Nobel Prize in Chemistry 2022 was awarded for the development of "click chemistry" – in which molecular building blocks snap together quickly and efficiently. This approach can be used for "bioorthogonal reactions" to improve the targeting of cancer pharmaceuticals.
Read more
NISE Network resources: 
• National Chemistry Week resources
• Explore Science: Let's do Chemistry kit
---
---
STEM THROUGHOUT THE YEAR
Discover activity ideas for incorporating current science, engineering, and technology content into events, special programming, holidays, and seasonal activities by visiting: nisenet.org/seasons
NOVEMBER
National STEM - STEAM Day (November 8)

World Radiography Day (November 8) 

The date marks the anniversary of the discovery of X-Rays by Wilhelm Roentgen in 1895

Thanksgiving (November 24)

Turkey breast feathers are iridescent due to nano-sized structures within the feathers

"Black Friday" Shopping Day - (Friday after Thanksgiving)

Black Hole Friday (last Friday in November)
DECEMBER
Games Day (December 20)

Winter Solstice (December 21)

Solstices and equinoxes provide opportunities for planning quarterly programs related to the Earth, Sun, and Moon (astronomical seasons) or your local environment (meteorological seasons).
---
---
NATIONAL MEETINGS AND CONFERENCES​​​