NOVEMBER 2021     
---
NETWORK NEWS
---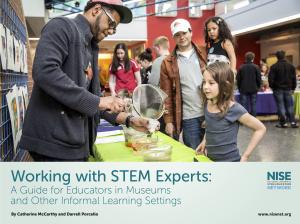 New Guide! Working with STEM Experts
The Working with STEM Experts guide is intended to be a practical resource for how to find, prepare, and work with STEM experts. It includes suggestions for ways to involve experts in STEM public engagement programming in informal learning settings, strategies for finding different types of expertise, including those with Indigenous knowledge, and lists of experts by subject area.
Download the guide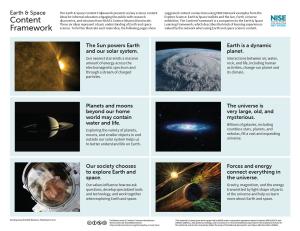 New! Earth & Space Learning and Content Frameworks
The Content Framework presents six key science content ideas for understanding Earth & space science and engaging the public in NASA science. The Learning Framework describes the intended actions of learners engaged with NISE Network hands-on activities. Both frameworks show suggested connections using NISE Network examples from the Explore Science: Earth & Space toolkits and the Sun, Earth, Universe exhibition.
Download the frameworks
ASTC Conference
It was great to connect with so many NISE Network partners at the virtual ASTC Conference last month. A big thank you to those who came to our booth, attended sessions, or just reached out to say hi! Session slides and booth handouts are available at: 
nisenet.org/astc2021
 
---
UPCOMING EVENTS
---
Online Workshop: Evaluating educational experiences during times of limited social interactions - Adventures in Team-Based Inquiry
Tuesday, November 16, 2021, 2pm-3pm Eastern
The pandemic has led many museums to develop new types of products and practices. However, with limited social interactions, it can be very difficult to know what our audiences need and whether new products are working as intended. In this online workshop, we will explore a set of resources that anyone can use to improve educational experiences and professional practices even during times of limited social interaction. Learn more and register
 
---
PARTNER HIGHLIGHTS
---
It's a bird, it's a plane... It's the Solar System! Westchester Children's Museum in Rye, NY Celebrates the James Webb Space Telescope Launch in a Big Way
In celebration of the upcoming James Webb Space Telescope launch, Westchester Children's Museum, located in Rye, NY, will explore the wonders of the universe with special programming and activities on November 13th! Chosen as one of NASA's 500 celebration partners, the museum is highlighting new and existing exhibits and programs that explore all things space. Some of the featured activities and exhibits in their MakerSpace include giant to-scale planets from our solar system (pictured), STEM experiments, and space-related arts and crafts! Read more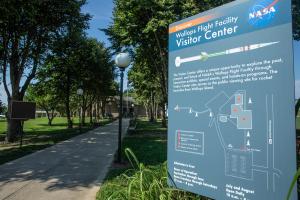 NASA's Wallops Flight Facility Visitor Center in Virginia offers virtual field trips to students around the world!
In March of 2020, after their facility was closed to the public in response to COVID-19, the three staff members at NASA's Wallops Flight Facility Visitor Center peered at each other from our various screens and asked "So, what do we do now?" ​Inspired and supported by our information from NISE Network, the team created a series of virtual field trips. Each hour-long virtual field trip includes an interactive presentation, a Q & A session, and a guided hands-on activity, all led live by a Visitor Center staff member. Read more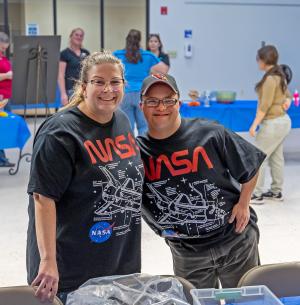 Partner Highlight: Sierra Vista, Arizona Celebrates Webb Space Telescope for All 

The community of Sierra Vista, Arizona is hosting numerous outreach and public engagement programs this fall to celebrate the launch of the James Webb Space Telescope. Elizabeth Wrozek, curator for the Henry F. Hauser Museum, Ted Forte from the Patterson Observatory, Echoing Hope Ranch, and the Huachuca Astronomy Club of Southeastern Arizona collaborated to bring space science and astronomy education resources to Sierra Vista's wider community including neuro-diverse adults and children. Read more
---
FEATURED ON THE WEBSITE
---
James Webb Space Telescope resources
The James Webb Space Telescope has arrived in French Guiana and is now being prepared for launch, currently scheduled for December 18, 2021. Learn more and review resources for engaging the public in this event: nisenet.org/webb
 
---
COMMUNITY RESOURCES AND ANNOUNCEMENTS
---
Community Science Air Quality Investigations Opportunity
Get involved in the GLOBE Mission Earth Air Quality program to engage in authentic air quality investigations in your community supported by NASA scientists and educators. Learn more
More air resources: nisenet.org/air-quality
Cambio Professional Development Experience
Cambio is welcoming museum applications to its year-long professional development experience to help teams better create STEM experiences that are culturally relevant and responsive to Latinx audiences. Apply by November 15. 
NOVA Universe Revealed
NOVA delves into the vastness of space in this five-part series premiering on October 27, 2021, at 9 PM on PBS. Episodes focus on the life cycle of stars, the Milky Way, exoplanets, black holes, and the Big Bang. Learn more and explore Related Events
COVID-19 Coronavirus and Vaccine Resources
NISE Network continues to compile resources as the situation with the COVID-19 Coronavirus and Vaccines continues to evolve:  
---
SCIENCE IN THE NEWS
---
EARTH AND SPACE NEWS
NASA's Lucy Mission launched this month and will visit eight asteroids over the next twelve years. Lucy will study the Trojan asteroids that are remnants of our early solar system. They orbit the Sun in two loose groups: one group leading ahead of Jupiter in its orbit, the other trailing behind. The Lucy mission is named after the fossilized skeleton of an early hominin (pre-human ancestor) discovered in Ethiopia in 1974. Read more
NISE Network resources: 
• Asteroids compilation of educational materials
NASA resources:
• Lucy's Journey animated video series 

CHEMISTRY NEWS
The 2021 Nobel Prize in Chemistry was awarded for work on a tool called organocatalysis used for precise molecular construction. This tool has made it easier to create molecules that are each other's mirror image but have different properties. Read more
NISE Network resources: 
• Chemistry Makes Scents In this activity participants use their noses to distinguish between chemicals with very similar structures, including molecule pairs containing all the same elements, arranged the same way but flipped in a mirror image.
• Explore Science: Let's Do Chemistry kit
NANOTECHNOLOGY NEWS
New ultra-white paint is predicted to cool buildings and reduce need for air conditioning. The paint contains a high concentration of barium sulphate particles that allow the paint to reflect 98.1% of sunlight while emitting infrared heat. Typical paints are between 80 and 90% reflective of sunlight. The researchers believe that this white may be the closest equivalent of the blackest black Vantablack coating which absorbs up to 99.9% of visible light. Read more
NISE Network resources: 
• Exploring Size - Ball Sorter activity
• Exploring Products - Sunblock activity  
SYNTHETIC BIOLOGY NEWS
Mosquitoes genetically modified to self-destruct
The Aedes aegypti mosquito is responsible for spreading serious diseases like dengue virus, Zika virus, yellow fever, and chikungunya. Listen to a recent NPR story about the gene-drive study that found genetically engineered mosquitoes can crash populations of malaria-spreading mosquitoes. Watch this short NOVA PBS video about the release of the first genetically modified mosquitoes in the United States.
NISE Network resources:
• Should We Engineer the Mosquito? forum 
CLIMATE CHANGE NEWS:
The 26th UN Climate Change Conference of the Parties (COP26 summit) in Glasgow Scotland happening October 31 - November 12  will bring parties together to discuss global climate change action. Learn more 
Climate change is making extreme weather events more common. Watch the PBS Newshour segment about the relationship between sea level rise and extreme weather. 
NISE Network resources:
• Climate Change resources
• Exploring Earth: Rising Sea activity
• Citizen Science, Civics, and Resilient Communities (CSCRC) project 
SUSTAINABILITY NEWS:
Adding rock dust to agricultural soils could help with climate change. Researchers have found that when pulverized rock is applied to agricultural fields, the soil pulls more carbon from the air and crop yields increase. Read more
NISE Network resources:
• Climate Change resources
• Sustainable Futures programs and professional resources
---
STEM THROUGHOUT THE YEAR
---
Discover activity ideas for incorporating current science, engineering, and technology content into events, special programming, holidays, and seasonal activities by visiting: nisenet.org/seasons

NOVEMBER
DECEMBER
Computer Science Education Week (CSEdWeek) and Hour of Code (December 6-12)

NASA Webb Space Telescope planned launch (December 18)

Games Day (December 20)

Winter Solstice (December 21)

 – 

Solstices and Equinoxes provide opportunities for planning quarterly programs related to the Earth, Sun, and Moon (astronomical seasons) or your local environment (meteorological seasons). 
---
NATIONAL MEETINGS AND CONFERENCES
---
Great Lakes Planetarium Association (GLPA) November 10-13 in Kalamazoo, MI 
CAISE InformalScience.org conference calendar
Learn more
National Science Teaching Association (NSTA) Conferences
Learn more
---