---
JULY 2023     
---
NETWORK NEWS
---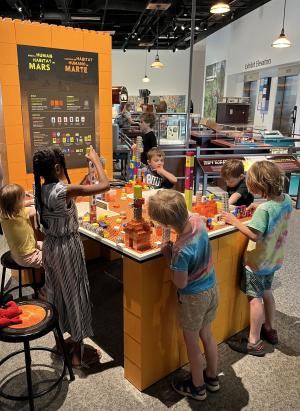 Build a Human Habitat on Mars exhibit
shipped to 52 locations throughout the United States 

Build a Human Habitat on Mars is a hands-on exhibit designed to inspire, engage, and educate the next generation of explorers about human exploration on Mars. Designed as an addition to the Sun, Earth, Universe exhibition, 52 copies of this new exhibit have been fabricated and distributed by the Science Museum of Minnesota to the 52 current owners of the Sun, Earth, Universe exhibition located throughout the United States.
Learn more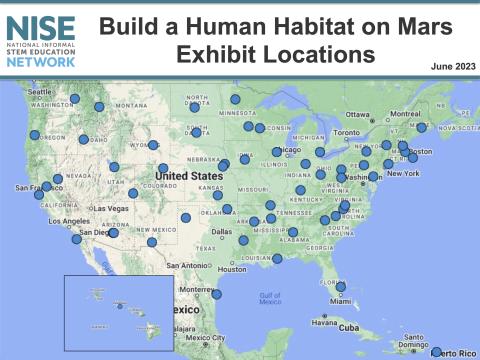 ---
UPCOMING EVENTS
Online Workshops
The NISE Network hosts free online workshops as professional development opportunities for our partners to share with and learn from each other. Online workshops take place on select Tuesdays at 2pm-3pm Eastern. View upcoming online workshops at nisenet.org/events
 
Tuesday, July 18, 2023
2-3pm Eastern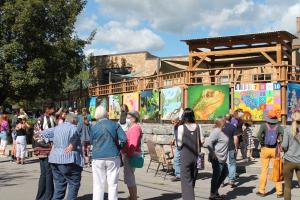 Murals and Museums - the Intersection of Art, Science, and Cultural Relevance
During this online workshop, we will hear from museum partners and their local collaborators who together used murals to engage audiences in art and STEM content in ways that were culturally relevant to the communities they serve. Presenters will guide us through their process and offer strategies for incorporating similar work into your museum.
Learn more and register 
---
PARTNER HIGHLIGHTS
Partner Highlight: Connecting the Neuro Futures Card Game with Science Fiction at the Museum of Science, Boston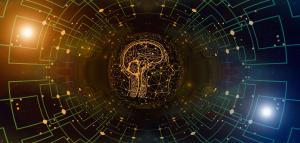 For anyone interested in using a sci-fi portal to neuroscience engagement with their audiences, Susan Heilman at the Museum of Science, Boston has gone through the possible future technologies included in the "Neuro Futures Card Game" and made connections to many stories from science fiction that include similar technologies. "Like the memory eraser in Eternal Sunshine of the Spotless Mind and the emotional detection camera in Blade Runner. When you brought science fiction into it, it opened up the conversation a lot." 
Learn more
---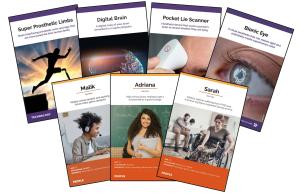 FEATURED ON THE WEBSITE
Changing Brain activities
Try the NISE Network's new set of activities to inspire reflection and conversation about future neurotechnologies. All the new activities include training videos and easily sourced materials. 
Learn more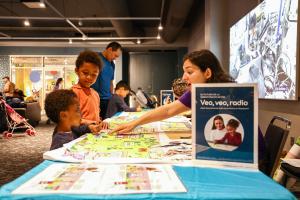 Making Waves with Radio activities 
Try the NISE Network's new set of activities to engage public audiences about radio technologies including Wi-Fi, cell phones, and satellites. Each activity includes a training video and materials in both English and Spanish. 
Learn more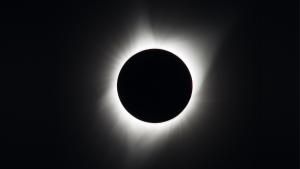 Solar eclipse resources
Two major solar eclipses are coming to North America on Saturday, October 14, 2023 and Monday, April 8, 2024. Even if you are not located on the path of totality, people throughout North America will be able to see a partial eclipse. New resources are available and more resources will be added to the website as they become available.
nisenet.org/solareclipse
Recorded NISE Network online workshops
View the recordings and resources from past NISE Net online workshops:
Looking for an easy way to discover resources on the nisenet.org website?
Check out our "Browse by Themes and Topics," featuring curated collections of hands-on activities and resources by themes and STEM topics: nisenet.org/browse-topic
---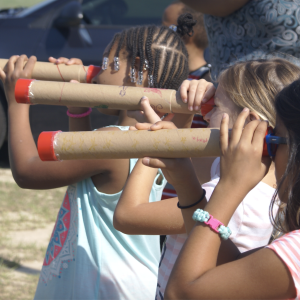 COMMUNITY RESOURCES AND ANNOUNCEMENTS
Call for Proposals -
Notice of Funding Opportunity for NASA Teams Engaging Affiliated Museums and Informal Institutions (TEAM II)
NASA is seeking proposals for the 2023 NASA TEAM II Community Anchor Awards and Full Awards. Eligible proposers include U.S. nonprofit science museums, planetariums, youth-serving organizations and libraries. Proposals due August 15 (Community Anchor Awards) and September 12, 2023 (Full Awards).
Learn more
Globe Observer NASA Moon Trees Quest
Participate in this citizen science opportunity from June 21 to September 21, 2023. Take tree height observations of the five tree species whose seeds were included aboard the Apollo 14 spacecraft using the GLOBE Observer app's Trees tool.. Trees and climate are intricately linked. Trees cool and moisten our air, fill it with oxygen, store carbon, create shade and habitats for other creatures, anchor the soil and slow the movement of water, and provide food, fuel, and building materials for human activities.
Learn more
Culturally Inclusive Planetary Engagement Workshops
Informal educators are invited to apply to attend an in-person workshop focused on engaging Black and Latinx audiences in planetary science. Stipends up to $300 are available. Upcoming locations in 2023: Miami, FL; New York NY; Boulder, CO; and Puerto Rico.
Learn more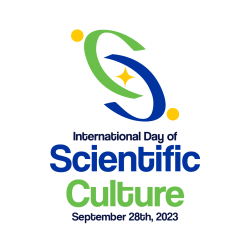 International Day of Scientific Culture (IDSC)
This annual event on September 28th aims to highlight the importance of scientific culture in today's world; and celebrate activities and institutions that provide spaces for people to make science a relevant part of their lives.
Learn more

National Nanotechnology Day
This annual event on or around October 9 helps raise awareness of nanotechnology, how it is currently used in products that enrich our daily lives, and the challenges and opportunities it holds for the future. 
Learn more
NISE Network NanoDays resources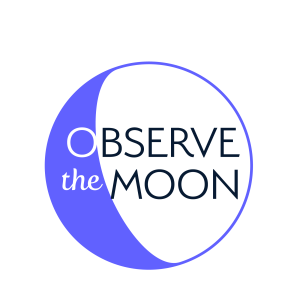 International Observe the Moon Night
On October 21, 2023 everyone on Earth is invited to learn about lunar science and exploration, take part in celestial observations, and honor cultural and personal connections to the Moon. 
Learn more
NISE Network Moon resources
---
---
SCIENCE IN THE NEWS
---
CHEMISTRY NEWS
Smoke from massive Canadian wildfires has been blowing thousands of miles across the U.S, blotting out the sun and shrouding many cities in a cough-inducing haze. As the smoke drifts with the wind, it also creates a new hazard along the way that is greater than the sum of its parts: a troubling ozone cocktail that results from a chemical reaction between wildfire smoke components and urban air pollution.
NISE Network resources: 
---
SYNTHETIC BIOLOGY NEWS
The Centers for Disease Control and Prevention announced that cases of locally acquired malaray have been detected in Florida and Texas, marking the first time there has been a local spread of malaria in the United States in 20 years.
NISE Network resources: 
• "Should We Engineer the Mosquito?" Forum
• Building with Biology activities
---
SPACE NEWS
A team of international scientists has used NASA's James Webb Space Telescope to detect a new carbon compound in space for the first time. Known as methyl cation (pronounced cat-eye-on) (CH3+), the molecule is important because it aids the formation of more complex carbon-based molecules. Carbon compounds form the foundations of all known life.
NISE Network resources: 
• Webb Space Telescope resources
---
NEUROSCIENCE NEWS
By measuring pain signals over months with brain implants, scientists can see chronic pain in the brain with new clarity. Over months, electrodes implanted in the brains of four people picked up specific signs of their persistent pain and suggests new ways to curtail the devastating condition.
NISE Network resources: 
• Brain and Neuroscience resources
---
NANOTECHNOLOGY NEWS
The ghost catfish from Thailand is almost completely transparent, but when the light hits it just right, its body flickers with shimmering rainbow colors. Scientists have figured out that this iridescent glow is caused by muscles that relax and tighten
NISE Network resources: 
---
CLIMATE NEWS
A recent study found that Artists' depictions of climate data can cut through politicization of science. Art offers an accessible way to engage with and understand climate change, and that artistic visualizations of data appeal to viewers' emotions more than data graphs and charts.
NISE Network resources: 
---
STEM THROUGHOUT THE YEAR
Discover activity ideas for incorporating current science, engineering, and technology content into events, special programming, holidays, and seasonal activities by visiting: nisenet.org/seasons
Summer
July
Plastic Free July (July)

Moon Landing - anniversary of Apollo 11 first step on the Moon (July 20)

National Ice Cream Day (July 18)
August
Perseid Meteor Shower (August)

The Perseids are the most popular meteor shower as they peak on warm August nights as seen from the northern hemisphere

National Sand Castle Day (August 5)

World Mosquito Day (August 20)

Frankenstein Day (August 30)

Mary Shelley was born on August 30, 1797; she wrote the novel Frankenstein in 1816, and published it in 1818
September
October
Metric Day (October 10)

Indigenous Peoples' Day (Second Monday in October) - celebrate people in STEM

Solar Eclipse (October 14)

Halloween (October 31)
---
NATIONAL MEETINGS AND CONFERENCES​​​