November 2, 2020
The Citizen Science, Civics, and Resilient Communities (CSCRC) project engages public participants in active learning about climate hazards through citizen science, also known as community science, deliberative forums and resilience planning. Supported by NOAA and led by the Museum of Science (MOS) in partnership with SciStarter, Arizona State University, Northeastern University, and the National Informal Science Education Network, this project was piloted by MOS, tested at several other sites around the country, and will be executed at 20 other science centers around the country for its final year. 
Through a science-to-civics model, public participants around the country are able to learn and contribute to deliberative forums and community science activities about extreme heat, drought, extreme precipitation, or sea level rise. The interactive forums bring the participants through a resilience planning process for various generic cities, using vulnerability data from case studies around the US and the world to build resilience plans. Participants learn and discuss stakeholder values, consider trade-offs of various resilience strategies, make a final resilience plan, and then an interactive StoryMap visualizes how their plan will affect the city and the people who live there. These forums promote mutual learning among community members, civic leaders, scientists and urban planners.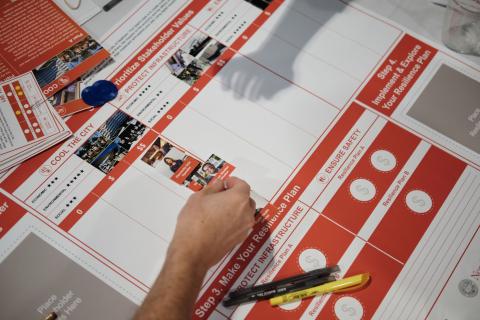 With the goal of extending engagement of climate resilience planning with the general public, this project connects community science projects to each hazard. Engaging participants in participatory data collection allows community members to understand, learn, and contribute meaningful data to projects centered around climate resilience. Caroline Nickerson, Project Manager for SciStarter and CSCRC partner, discusses how museums and science centers are well positioned to be a place where community science and forums can come together to create civic change: 
"Museums and science centers are already community hubs, so it makes sense that they would catalyze their neighborhoods, cities & regions in the vital work of citizen science. It's such a joy to work alongside leaders from these cultural institutions to create curated pages that showcase citizen science projects. The pages and programs spotlighted on SciStarter.org/NOAA match robust citizen science projects with climate hazards, allowing anyone and everyone to take action with citizen science. Climate hazards can make us feel powerless. Citizen science can be a way of taking that power back, and I can't speak highly enough of the amazing museum and science center professionals, as well as citizen science project leaders, who make this type of work possible. We're honored to help connect the different parts of this project through SciStarter pages, customized analytics, and digital storytelling."

~ Caroline Nickerson, SciStarter Project Manager
Piloting the "science-to-civics" model 
In the summer of 2019, MOS studied the impact of extreme heat and the urban heat island effect through community science and connecting it to the forum deliberation materials. Nicknamed "Wicked Hot Boston," the pilot year was done by recruiting members of the general public to participate in ISeeChange and urban heat mapping. Participants, alongside local resilience planners and scientists, were then invited to attend the related forum at the Museum. The data from the citizen science projects were also shared with civic partners to aid with local resiliency planning.  In the second year of the project, MOS focused on sea level rise by connecting the community science platform MyCoast to the deliberative forums. Through the end of 2019 and 2020, community scientists posted pictures of storm damage, coastal erosion and king tides to MyCoast.
On November 10th, we will be piloting MOS's first virtual forum for this project. The virtual forum is open to everyone, sign up here to participate!
In the second year, the North Carolina Museum of Life and Science ran a "Climate-Conscious Durham" series to promote dialogue, build resilience, and empower understanding and engagement on climate-related issues in North Carolina. They began with four mini-seminars, followed by a public forum, and finally a workshop on how to begin collecting weather and climate data in your own backyards. Participants who attended all events received a Certificate of Completion and an official CoCoRaHS Rain gauge.
"I like this science-to-civics model for resilience to climate change in particular because it is a complex, massive, and often tragic issue that can leave individual people feeling powerless in the face of it. This model is about you! Its solutions-focused approach is all about finding the way that you, individually, can fit in to the process of building resilience. This model positions Museums and Science Centers at the crucial nexus between science, policy, and the public, allowing them to serve as a vitally important neutral convener, wherein we can serve not only in our typical role of facilitating rich learning and knowledge transfer, but also help to facilitate civil dialogue, deep engagement, and knowledge co-creation."

~ Max Cawley, North Carolina Museum of Life and Science, Year 2 Site Forum Host
What's next
For the third and final year of the project, 20 sites around the country will be selected to receive a stipend to support implementing the science-to-civics campaign at their institution. If you are interested in applying for the project, you can learn more on the CSCRC project page (https://www.nisenet.org/CSCRC) and fill out the expression of interest form linked on the page. If you have any questions or would like more information, please attend an online workshop on Tuesday, December 1, 2020 from 2-3pm ET: Register here. 
​​​​​There is also the opportunity to see this project in action by participating in the sea level rise virtual forum hosted by Museum of Science on Tuesday, November 10, 2020 from 5-7pm ET - Sign up via Eventbrite.
If you have any questions please contact Katie Baur at [email protected].
---
Acknowledgements
This material was prepared using federal funds under award NA18SEC0080008 from NOAA. Any opinions, findings, and conclusions expressed in this material are those of the authors and do not necessarily reflect the views of NOAA or the US Department of Commerce.