February 2, 2023
The University of Montana spectrUM Discovery Area in Missoula, MT is all about sharing. Situated on the 2nd floor of the Missoula Public Library, spectrUM has longtime, embedded partnerships with libraries, schools and other institutions around the Western Montana region. Because Montana is a very rural state, we've found that the best way to reach our audience is to bring exhibits, activities and educational experiences to where they live, work, learn and play.
In the fall of 2021, spectrUM loaded up the Nano exhibition and made the journey across the state to install it in the Great Falls Public Library. This library is a new partner that spectrUM is hoping to collaborate more with, and they were very excited to share the exhibition with their community. There is considerable interest on the part of the library to host more exhibitions and interpretive elements to draw in patrons, and provide positive educational experiences to those who visit regularly. The NISE Network exhibitions are just the first of what is hoped to be many more installations.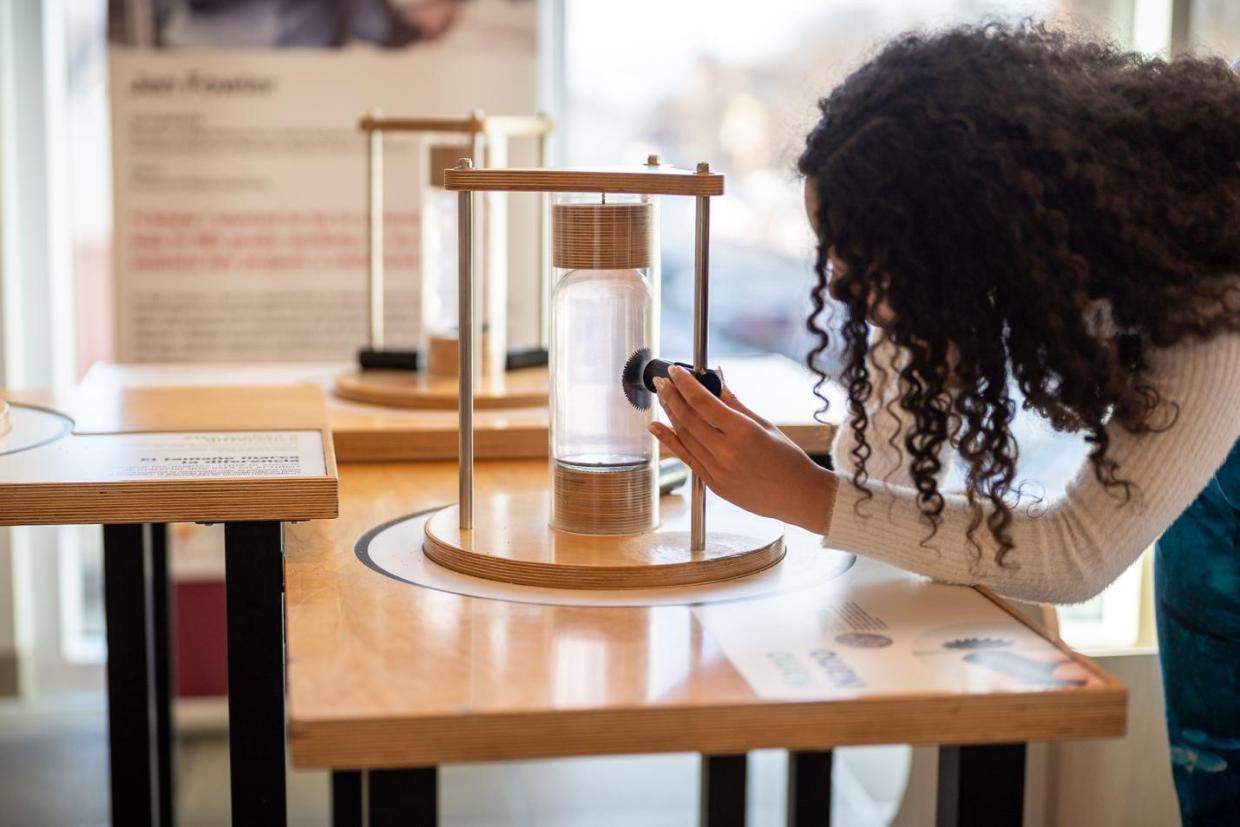 The Nano exhibition was placed on both floors the library through the summer of 2022, when it was exchanged for the Sun, Earth, Universe exhibition. In total during the yearlong installation of both exhibits, approximately 20,000 patrons interacted with them. 
KRTV news in Great Falls featured the Nano exhibition in this short piece on television and online.
https://www.krtv.com/news/great-falls-news/great-falls-library-is-hosting-a-nano-exhibit.
We removed the Sun, Earth, Universe exhibition in November of 2022 to make way for another exhibition produced in Montana, titled "Shots Felt 'Round the World: Maurice Hilleman and the Montana origins of the fight against pandemics" using collections donated to the Museum of the Rockies by the Hilleman family, along with Montana newspaper stories that describe contemporary accounts of infectious disease throughout Montana history.
This instance is a perfect example of the collaborative partnerships that spectrUM has curated in Missoula as well as around the state. All exhibition elements furnished by the NISE Network are among our most popular to install both within our museum as well as in partner spaces. We've hosted them in schools (part of Sun, Earth, Universe is currently at the Frenchtown Middle School library, which is a partner branch of the Missoula Public Library), at the University of Montana physics and astronomy department, the Missoula Airport, our collaborative space - EmPower Place - with the Missoula Food Bank, and countless libraries regionally.
The NISE Network would like to thank our partners at spectrUM for all the work they have put into creating these relationships in their community to bring our resources to a variety of audiences!
If you are interested in hosting the Nano Mini-Exhibition or the Sun, Earth, Universe exhibition, please reach out to Christina Leavell, NISE Network Community Manager, to be added to a waiting list.