November 30, 2021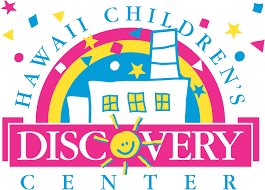 Aloha! The Hawaii Children's Discovery Center is known for welcoming visitors from near and far. However, during the COVID-19 Pandemic, we became one of the States with a lengthy stay-at-home quarantine, banned indoor activities, and restricted travel. Our museum was closed for approximately three months and currently we continue to operate at half of our visitor capacity due to continued restrictions that are still in place. Although 2021 continued to be challenging, this did not deter our amazing team to continue with our mission to be a world-class learning environment that is filled with hands-on, interactive exhibits that empower and inspire children to learn about themselves and the world through exploration and play.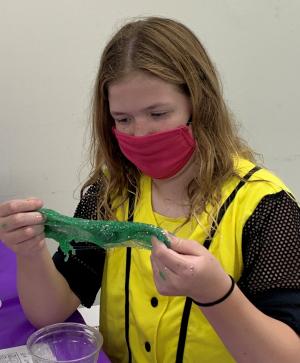 During the pandemic, our team continued to operate our Preschool STEM and Playtime Programs for our young learners. We re-arranged the classroom to ensure social distancing and we brainstormed to continue to provide rich STEM learning while keeping the children safe. Our educators were able to attend the ACM Interactivity 2021 conference and network with a few of the leaders of the NISE Network. The support provided from the NISE Network inspired us to incorporate the NISE learning kits we had in our preschool programs. We recently used the Bear's Shadow kit to teach the children about day/night and nocturnal vs. diurnal creatures as the nights are increasingly becoming longer as Hawaii's version of winter approaches.
In addition to our programs, our team held several STEM themed events. We held a Spooky Science Workshop and a Keiki Costume Ball on October 30 and 31. The hour-long Spooky Science Workshop had a spooky, fun theme. The families were challenged to build a haunted house by using the engineering method, toothpicks, and candy. They also attempted to balance paper bats using a penny and center of gravity on their nose or finger. The families made a magical brew which was a colorful chemical reaction of baking soda with vinegar and also concocted monster slime following a recipe. Spooky fun family cupcake decorating was a family favorite as well. The Keiki Costume Ball was kept safe as staff and volunteers created candy chutes to slide treats and toys down  into the hands and trick-or-treat bags of happy, costumed children. Seeing the smiles and joy from the families was a treat! 
Our November STEM focused events included a family workshop on November 13, 2021, that included bubble exploration as children created their own bubble wand and solution, created bubble art, and could play with their family outdoors in the sunshine. We also held a Thanksgiving STEAM Workshop where families experimented with dancing popcorn, created cranberry playdough, made flying turkeys and more! We also held several school break camps where children explored topics such as force and motion, forests and shelter building.
As we look forward to December programming, we will host another family workshop that will include a winter themed exploration of ice and snow. Although the outside temperature is an average of 78 degrees, our educators will be freezing ice cubes, using insta-snow, and blending ice in blenders to create 'snow.' We will also be providing holiday themed programs and camps.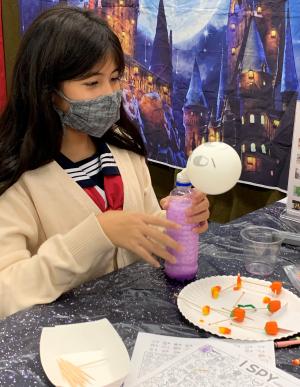 Overall, the development of STEM themed holiday events during the pandemic has allowed us to reach a new audience and create a new source of income for the Center. It also helps us fulfill our mission. 
"We hope to inspire and empower young learners to use all of their senses-touch, sight, smell, and hearing—to discover the "wonder" in their world; to take pride in who they are and the unique multicultural heritage that is Hawaii; and to develop a lifelong love of learning."-
 The philosophy of Loretta Yajima, Founder of the Hawaii Children's Discovery Center