June 6, 2023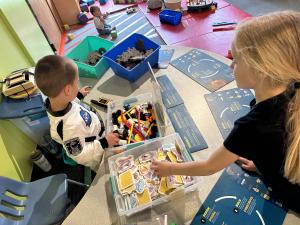 We recently heard about a very successful event hosted by partners at Wonder Works Children's Museum that integrated multiple years of NISE Network Explore Science: Earth and Space toolkits into one fun-filled family Space Weekend...
Our visitors at the museum tend to be very young (birth to age 8, with the majority falling between 2-6 years old). In an informal setting where their experiences might not always involve an adult, some of the materials can be too advanced for these very young learners. So we approached our Space Weekend as a "takeover event" where we transformed the museum into all things SPACE!
Our stations included: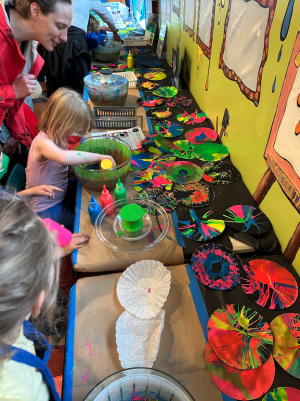 1. Nebula Spin Art!  - located in the Art Room
I had to buy 4 more salad spinners, it was a HUGE hit!  We ran out of black circles and had to get crafty. I've saved all of our leftover nebula art and will repurpose the art into shapes for our collage unit.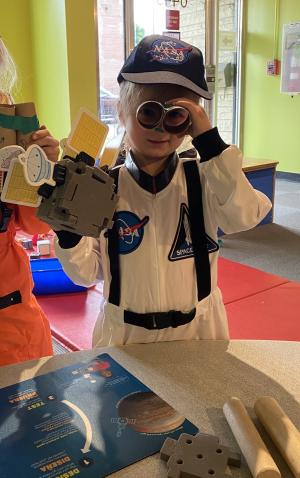 2. Design, Build, Test  - located in the Build It Exhibit 
This activity was staff led and kids had a fantastic time trying to break their creations. 
3. Hide & Seek Moon  - located in the Build It Exhibit 
Unfortunately, the binoculars that came with the kit were too well-loved to bring back out. So we had kids make their own binoculars with paper towel tubes. This was a huge hit with our littlest visitors.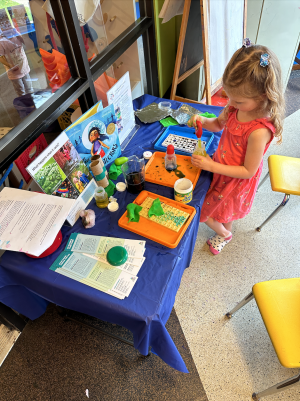 4. Measure Up & Early Science Explorers - located outside the Becky Boyce Nature Playspace
These activities got rather messy so they were perfect for outside! It was really exciting to see the materials migrate from the tables to other areas of the Nature Playspace. Once kids understood their purpose, spontaneous mixing and measuring started to pop up everywhere. The scale ended up holding gravel near our stone pit and the wood blocks became roads and other fun imaginative ideas.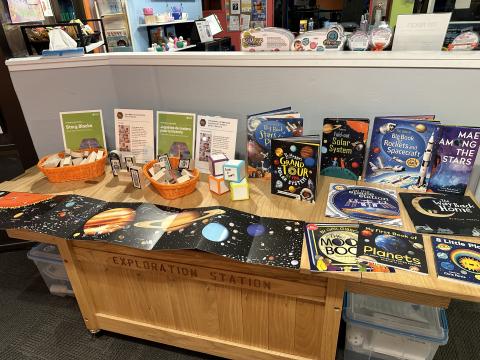 5. Story Blocks - located at the front entrance 
I created a station with lots of space themed books and manipulatives. Children built space stations using the blocks to mimic what they saw in the books. 
6. Stomp Rockets - located at the front entrance
A fan favorite, there were many shouts of joy as kids shot their rockets to the ceiling! Some rockets ended up in our new wind tunnel station. It was fantastic to see kids stretch their learning comprehension as they took the idea of flight a step further.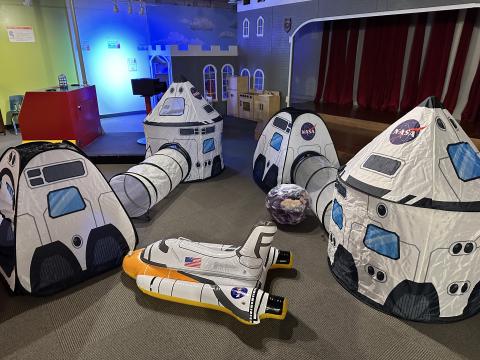 7. Imaginative Play - located at the Lights, Camera, Action Exhibit
Although technically not part of the kits, we set up pop-up space station tents and put out lots of astronaut costumes.  Nothing is cuter to see than a kid in full costume concentrating at one of the NISE Network activity stations!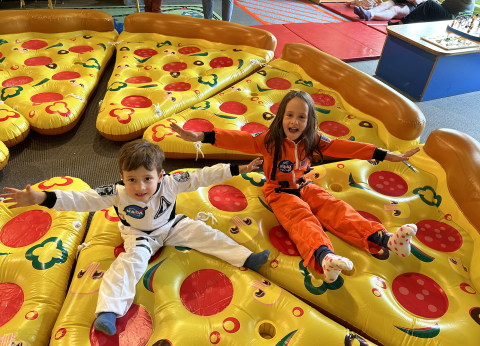 Finally, Space Weekend was part of our special Member's Only Night Pizza Party. We had astronauts jumping on a giant inflatable pizza all night. This was a particularly great way to engage parents after hours. I observed a lot more one-on-one activity between parents and children at the NISE Network activity stations than you would typically see during regular business hours. I think because it was a special event, parents used Pizza Party Space Night as quality family time.  
A huge thank you to Wonder Works Children's Museum for integrating our resources into such a wonderful family event and for expanding upon the toolkit activities to create a very unique experience for your community!
Instagram: @wonderworksop
Facebook: @wonderworkschildrensmuseum