December 11, 2022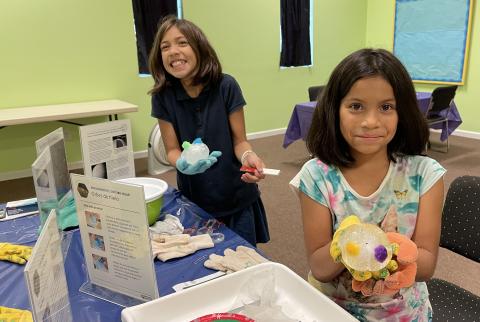 Recently, Carole Holmberg, the Planetarium Manager for the Museum of York County in Rock Hill, SC, shared some exciting new resources that they produced as part of their project from the NISE Network's Earth & Space Project-Based Professional Learning Community 2021-2022.
Our project was to create a Spanish-language audio tour of our new Ice Age Carolinas: Exploring Our Pleistocene Past permanent exhibit. 
We had our in-house expert, Dr. Steve Fields, create the English text. Primary translation services were provided by Carolina Valencia, who was recommended by one of the other members of our Earth & Space Project-Based Professional Learning Community.  A Spanish-language professor at nearby Winthrop University, Victoria Uricoechea, provided additional translation services and was the "voice" of the audio tour.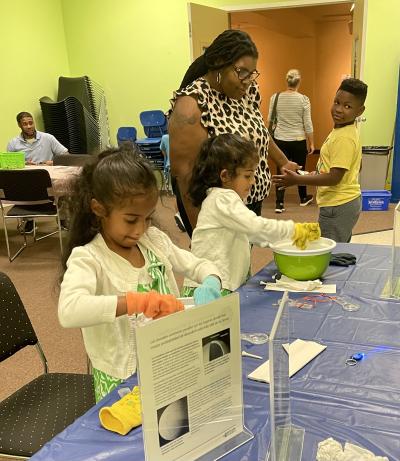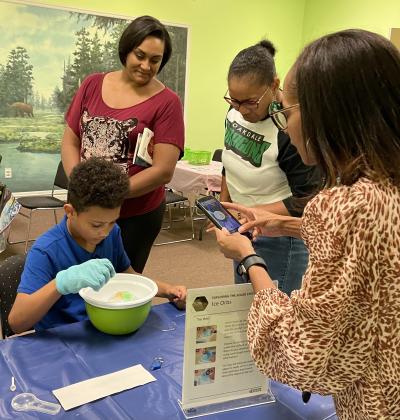 We have a booklet of QR codes available for people to use their phones. Eventually, we will have these tour guide booklets professionally printed. We plan on purchasing headphones for visitor use as well.
Videos are available on YouTube and correspond to the stops on the audio tour. The entire playlist is located at: https://www.youtube.com/playlist?list=PLxF7Kk9435vdhpHPmPVvWQR4X9z9gbo3a
We premiered this during our 3 Family Nights at the Museum in September 2022, where the eight Title 1 schools in our local school district are invited to visit the Museum with their families for free. We decided to use the NISE Earth & Space Exploring the Universe: Ice Orbs activity in our Museum classroom for these evenings.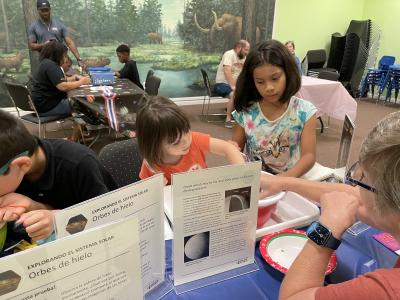 Thank you and the NISE Network for providing the funds for this project. We see families that speak primarily Spanish, and it is great to let them know we have a Spanish-language audio tour. I originally thought that it would be useful for kids that learn/speak English at school and their parents who are more comfortable with Spanish, but we also have parents that speak English well, but their kids communicate much better in Spanish. We definitely think this audio tour will be an asset for all Museum visitors whose primary language is Spanish. 
Thank you to the Museum of York County for providing these valuable resources in your community, as well as sharing these back with our partners!
If you are interested in learning more about the NISE Network's Earth & Space Project-Based Professional Learning Community 2021-2022 and resources for making Earth and space more relevant and inclusive to your audiences, check out Making Earth & Space Science More Relevant and Inclusive on our site: https://www.nisenet.org/making-relevant-inclusive