November 17, 2021
Woolly Mammoths have made the news again, as an ambitious new company recently announced their goal of resurrecting the 400,000 year old creatures within the next six years using the gene editing tool CRISPR-Cas9 (to learn more: https://www.npr.org/2021/09/14/1036884561/dna-resurrection-jurassic-park-woolly-mammoth) 
As with any new scientific endeavor, scientists and society must weigh the risks and benefits of this new venture to humanity. Is bringing back a nearly 15 ton extinct creature a good idea? Is it the best use of this technology? Some scientists believe that the reintroduction of the woolly mammoth may assist in the reversal of some of the negative effects of climate change. While other scientists have concerns about the possible upset to existing ecosystems by reintroducing an extinct species. Once more, there are scientists who are of the opinion that this technology should be used to help repopulate our current endangered species. The list goes on, but whatever side of this woolly discussion you find yourself on, the fact is that this topic has captivated audiences for a number of years and is a wonderful opportunity to start a discourse around science and society with your audiences. 
During the NISE Network's Building with Biology project, the Science Museum of Minnesota developed a stage presentation with just this opportunity in mind. "Storming the Castle" is a museum theater show that introduces audiences to the field of synthetic biology and presents facts while representing the views of an ambitious scientist and a concerned member of the community.
Set in a melodramatic early 1900's mad scientist lab, the program invites audiences into the world of the Doctor who is experimenting with synthetic biology. The Villager comes ready to storm the castle with the audience, asking questions and voicing concerns about all the unknowns there still are within this new field of study. As hilarity ensues, so does a thoughtful conversation. The Doctor and Villager find that they even share some similar views despite having different opinions.
 
The piece runs about 10-15 minutes, depending on audience participation. The set, props, costumes, etc., are minimal and flexible. The script includes notes about these production elements and offers suggestions for how to adapt the piece to fit your needs.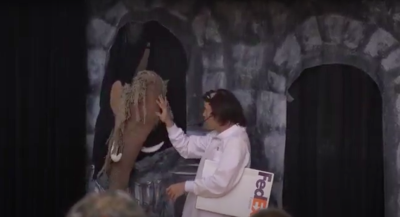 Storming the Castle theater program

Learn More: