June 28, 2023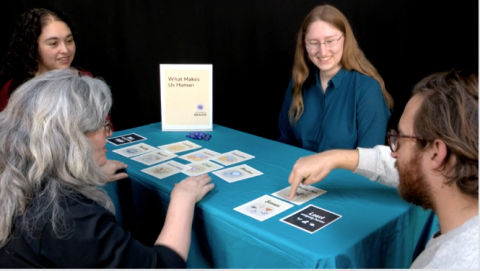 If you haven't already checked out the Neuro Futures Card Game, or for that matter any of the activities from the Changing Brains kit, we highly recommend that you do. These activities are fun for the whole family, and a great place to start conversations around neuroscience with audiences of all ages. Yes, we did say all ages. Though neuroscience public engagement can sometimes be a bit intimidating, research out of the Changing Brains project has shown that it's possible to create really deep, meaningful neuroscience learning experiences that may not start with defining what a neuron is or explaining how the brain works. We also know that young audiences absolutely love to consider what technologies in the future could make possible for them!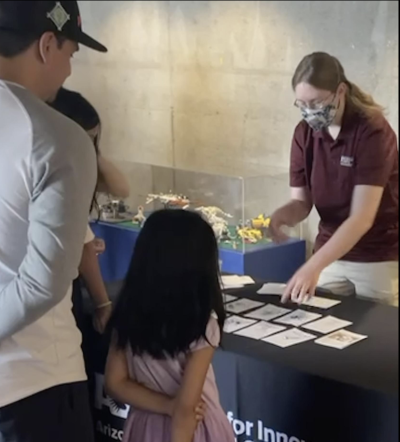 Earlier this year, the NISE Network hosted the online workshop: Changing Brains - New Tools for Brain Awareness Week & Beyond. We heard from some of the developers working on the Changing Brains project as well as partners who had already taken the activities and expanded upon them. Susan Heilman, PhD, Current Science Communication at the Museum of Science, Boston shared her experience around the question that came up the most during this workshop: how to engage kids AND adults in neuroscience. "My go-to is science fiction movies, books, TV," Susan shared, explaining how she had gone through the Neuro Futures Card Game technology cards and made connections to relevant science fiction. "Like the memory eraser in Eternal Sunshine of the Spotless Mind and the emotional detection camera in Blade Runner. When you brought science fiction into it, it opened up the conversation a lot."
For anyone interested in using a sci-fi portal to neuroscience engagement with their audiences, check out Susan's list of technologies from the card game and the sci-fi stories that include similar technologies: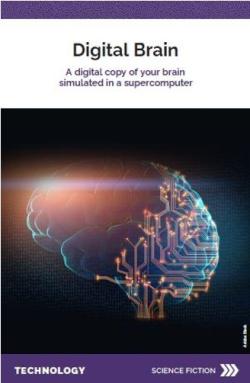 Digital Brain
Transcendence (Movie)

Johnny Mnemonic (Movie)

Ghost in the Shell (Movie)

Spy Kids (Movie)
Smart Pills:
Limitless (Movie & TV Show)
Emotion Detection Camera:
Blade Runner (Movie)

Her (Movie)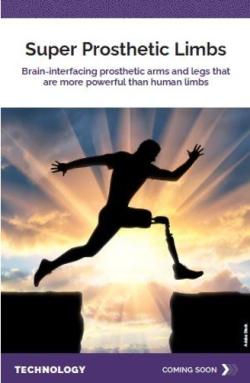 Super Prosthetic Limbs:
6 Million Dollar Man (TV Show)

Bionic Woman (TV Show) 

i, Robot (Movie)
Brain Game Controller:
Ready Player One (Book & Movie)

Ready Player Two (Book)
Mental Health Screening:
Minority Report (Movie)

Ex Machina (Movie)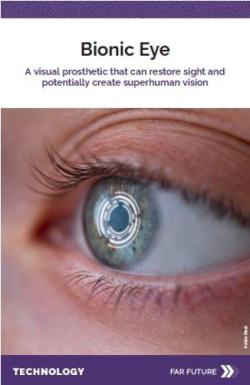 Bionic Eye:
6 Million Dollar Man (TV Show)

Bionic Woman (TV Show)

Terminator (Movie)

Black Mirror (TV Show; S3E5-Men Against Fire) 
Brain Implant:
Matrix (Movies)

Johnny Mnemonic (Movie)

Black Mirror (TV Show; S2E4-White Christmas & S4E2-Playtest) 
Designer Brain Cells: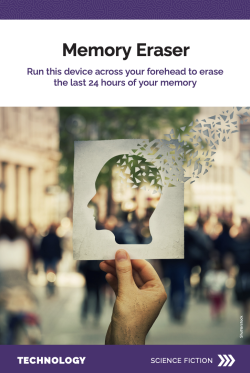 Memory Eraser:
Eternal Sunshine of the Spotless Mind (Movie)

Total Recall (Movie)

Men In Black (Movie)

Severance (TV Show) 

Black Mirror (TV Show; S1E3-Entire History of You & S2E2-White Bear)
Mood Sensing Earbuds:
However, this is not the only expansion that Susan and her colleagues have made to the Changing Brains resources. They have also adapted the Neuro Futures Championship Game into an interactive stage presentation called Neuro Tech Tournament. This adaptation still pits new neurotechnologies head-to-head using the March Madness-style bracket gameplay, but includes two presenters. One is an emcee and walks around the audience with a microphone. The other presenter has a computer connected to a big screen and types out the pros and cons as determined by the group. "For example, we start by showing the whole 8 topic bracket on screen. Then we have a slide with Smart Pills vs Brain Game Controller. I ask the audience for pros and cons for each, while my colleague types them directly into the powerpoint which appears on the giant screen. Then we have the audience vote for which one should win. We do that for each of the rounds until we get to the winner" said Susan. She added that they still use the Neuro Futures Championship Game bracket board, saying "The giant board was good for drawing people in and if people came in the middle of the activity, they could see that there was a 'tournament' going on." Susan said tournaments can last about 30 min and they have successfully used this stage program with groups of 40 people. This included a recent group of second grader campers who may not have said as much as older audiences, but who stayed engaged for the whole game and voted every single time. "My main goals with this were to create a larger experience in our CS&T space, to have some dialogue with the audience, and to make an activity that our presenters could do with minimal prep and background."
A big thank you to Susan and the Museum of Science, Boston, (as well as all the developers and contributors to the Changing Brains project) for providing some common ground to have conversations around the complex!
---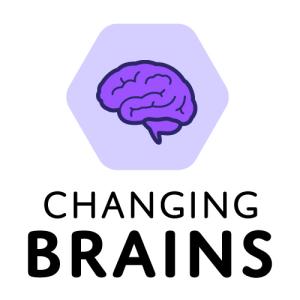 ---
Acknowledgements
This material was based on work supported by The Kavli Foundation. Any opinions, findings, and conclusions or recommendations expressed in this program are those of the authors and do not necessarily reflect the views of the Foundation.