July 1, 2014
Paul Martin and I presented the accomplishments and capabilities of the NISE Net at our "reverse site visit" at NSF on June 9. Ray Ostman, Brad Herring, Emily Maletz, and others created slides, graphics, and videos for us to use in our presentation this year, and the evaluation team scrambled to get us some impressive reach numbers.
Since 2008, a total of 1400 NanoDays kits have been distributed to 439 different organizations. The kits have provided 121 different educational products as well as a wide range of support materials.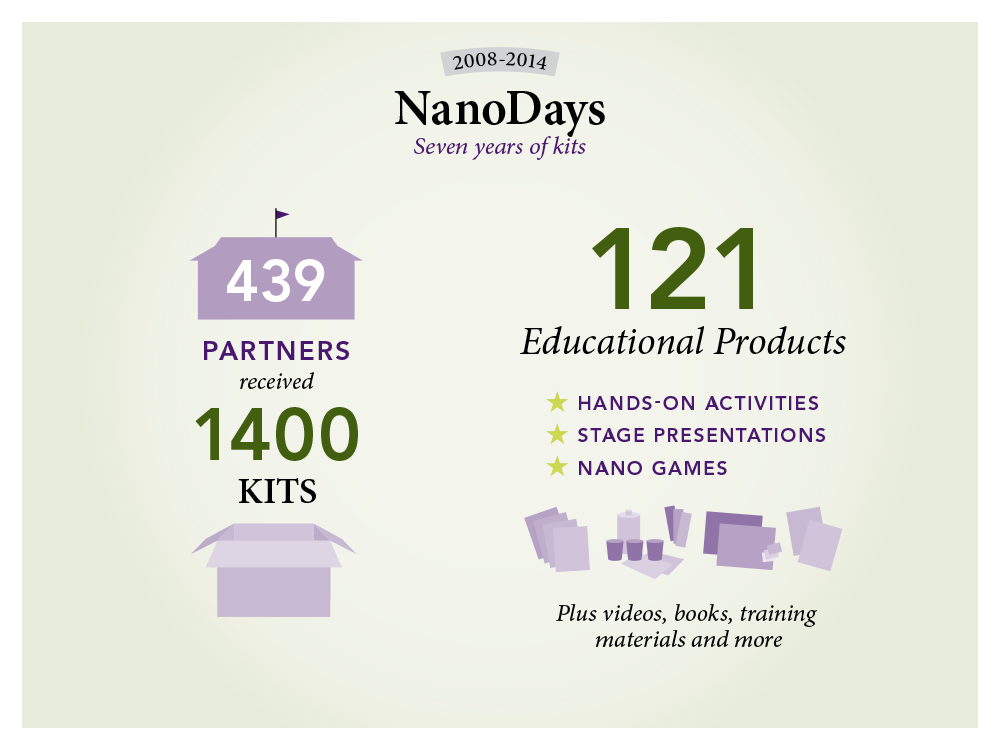 The team reviewed answers to questions on the annual NanoDays reports and calculated an estimate of the number of individuals reached by the NanoDays kit outside of NanoDays events to be over 1,000,000. With the distribution of the last batch of Nano mini-exhibitions next year, a total of 90 mini-exhibitions will reach over 9 million people each year. So between NanoDays kits and mini-exhibitions, NISE Net resources reach over 10 million individuals each year!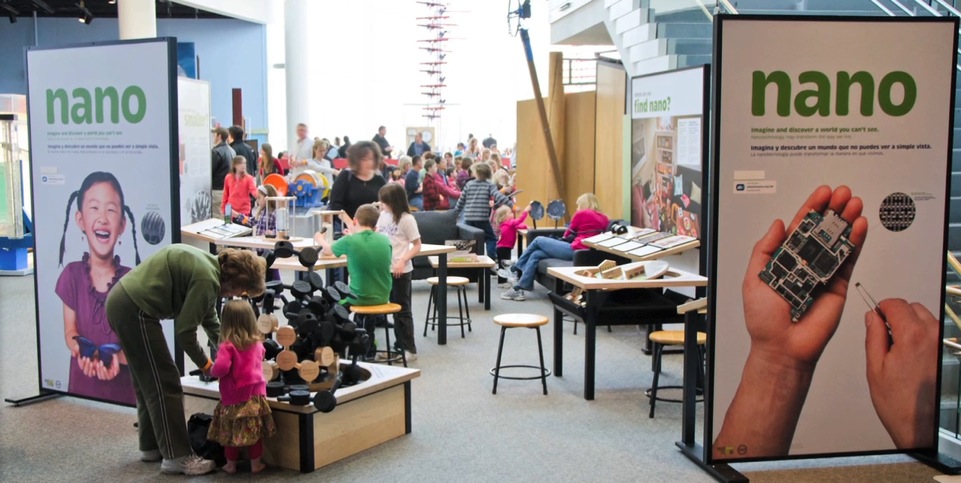 Of course, reach and numbers is only one way of looking at NISE Net accomplishments and our presentation focused on the overarching themes of building collaborations, engaging the public, and increasing capacity of our partners. To leave time for significant discussion, we condensed the entire NISE Net story into just 20 minutes! That's the fastest we've ever told it.
We were fortunate that not only were our primary program officers at the reverse site visit, Al DeSena and Mihail (Mike) Roco, but also the head of the Engineering Directorate (Pramod Khargonekar) and the head of the Education and Human Resources Directorate (Joan Ferrini-Mundy). Both Joan and Pramod expressed their congratulations to NISE Net for all that it has accomplished.
Following the presentation, we talked about possibilities for the future, and following the meeting at NSF, the NISE Net leadership team helped me draft a "white paper" about the NISE Net's capabilities and how they could be used in the future, which both Al and Mike have now. What will develop from all of this, we don't know, but the response at our reverse site visit was very encouraging.
Thank you all for making it possible for us to tell such a great story.