June 28, 2023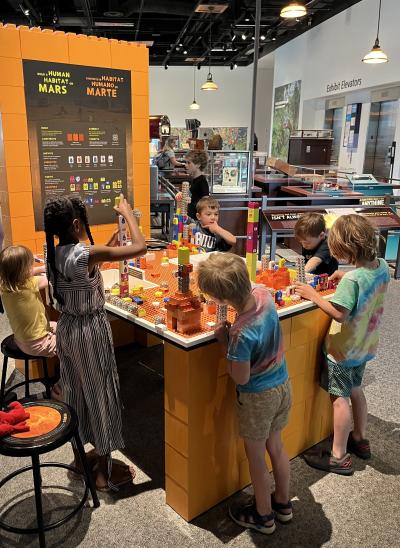 Build a Human Habitat on Mars is a hands-on exhibit designed to inspire, engage, and educate the next generation of explorers about human exploration on Mars. Designed as an addition to the Sun, Earth, Universe exhibition, 52 copies of this new exhibit have been fabricated and distributed by the Science Museum of Minnesota to accompany 52 copies of the Sun, Earth, Universe exhibition located throughout the United States.
About the exhibit
For people to live on Mars, we will need to develop technology and systems that will allow humans to survive and thrive. Survival means there are processes in place to maintain the bare minimum for human life to exist: water to drink, oxygen to breathe, shelter from the harsh environment, and much more. Thriving on Mars requires making special efforts to stay healthy both physically and mentally. This means having resources to keep your mind and body active, like your favorite book, music, comfort foods, hobbies, exercise, and ways that allow you to transition your day-to-day routines to a new and very different planet from our own.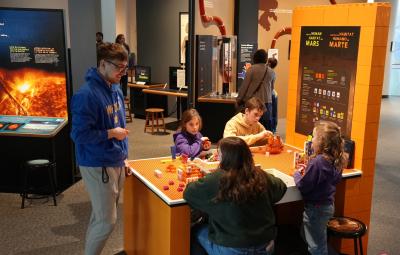 Build a Human Habitat on Mars uses familiar building blocks which allows museum visitors to immediately be able to design and construct their own imaginary habitat for successful living and working on Mars. By using a familiar resource, participants can focus on the real challenges to life on Mars and have thoughtful reflection about possible solutions. The exhibit also includes a set of challenge cards presenting some of the very real hardships people will face when establishing an outpost on Mars. 
Build a Human Habitat on Mars - Promotional Video from NISE Network on Vimeo.
Exhibit Resources
(includes host materials such as Educator Guide, Technical Manual, and print ready graphics, as well as info for a DIY version of the exhibit) 


https://www.nisenet.org/marshabitat

 
---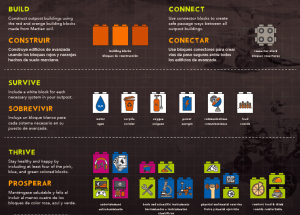 DIY Exhibit
The Build a Human Habitat on Mars exhibit is designed to be integrated into the Sun, Earth, Universe exhibition and provides complementary content. However, the Educator Guide and Technical Manual include info for creating your own DIY version of the exhibit. Print ready graphic files are available for printing professionally or printing on your own printer, and content can integrate easily into similar building block areas you may already have on your floor. 
---
Preliminary Summative Evaluation Findings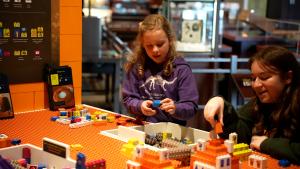 Preliminary summative evaluation study findings from 126 museum visitor surveys collected at five different museums show that: 

95% of responding groups felt the activity was "Enjoyable" or "Very enjoyable"

90% of responding groups felt the activity was "Interesting" or "Very interesting"

77% felt they had learned something new at the exhibit

74% said their interest in learning about space exploration increased
Observations of 68 visitor groups at Science Museum of Minnesota show that the exhibit is extremely engaging and consistently supports the 21st Century Skills of Collaboration, Problem Solving, and Creativity:

Average engagement time at the Science Museum of Minnesota was 20 minutes, and half stayed longer than 20 minutes. The longest hold time observed was 47 minutes.

Collaboration and Problem Solving was observed by evaluators in nearly all (67 of 68) groups' interactions at the table.

Creativity was observed in 61 of 68 (or 90% of groups).
---
Funding, Development, and Fabrication
The exhibit development, fabrication, and distribution was made possible by a grant from the NASA Teams Engaging Affiliated Museums and Informal Institutions (TEAM II) program (Grant number 80NSSC20M0030). The exhibit was developed and fabricated by the Science Museum of Minnesota in collaboration with the NISE Network.
Many thanks to the subject matter experts who participated in different phases of the project including brainstorming concepts, advising about content, providing scientific imagery, and reviewing exhibit graphics: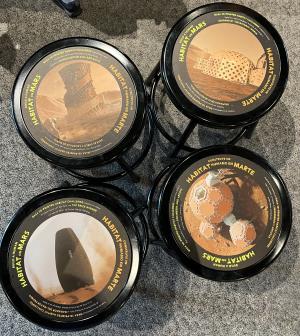 Monsi Roman, NASA Marshall Space Flight Center

Taylor Goodwin, NASA Marshall Space Flight Center

Brian Day, Solar System Treks, NASA Ames Research Center

Amelia Chapman, Museum & Informal Education Alliance, NASA JPL

Jeff Nee, Museum & Informal Education Alliance, NASA JPL

Sarah Marcotte, Mars Public Engagement Specialist, NASA JPL

Jon Nelson, NASA Eyes, NASA JPL

Jordan Klovstad, NASA Mars Architecture Team

Michelle Rucker, NASA Mars Architecture Team

Christine Shupla, Lunar Planetary Institute

Jaime Harold, Space Science Institute

Jim Bell, Arizona State University

Corrine Rojas, NASA Goddard Space Flight Center
Many thanks to the NISE Network partners who participated in many stages of the development process, including: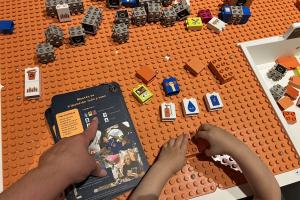 Arizona State University, Tempe, AZ

Children's Creativity Museum, San Francisco, CA

Museum of Life and Science, Durham, NC

Museum of Science, Boston, MA 

Sciencenter, Ithaca, NY

Science Museum of Minnesota, Saint Paul, MN

UC Berkeley Lawrence Hall of Science, CA
The front-end, formative, and summative evaluation work has been conducted by the Science Museum of Minnesota evaluation team. Thank you to the following NISE Network partner locations who participated in summative evaluation data collection: 
Arecibo Observatory, Arecibo, PR

Children's Museum of Brownsville, Brownsville, TC

Arizona Science Center, Phoenix, AZ

Museum of Science, Boston, MA 
---
Exhibit Locations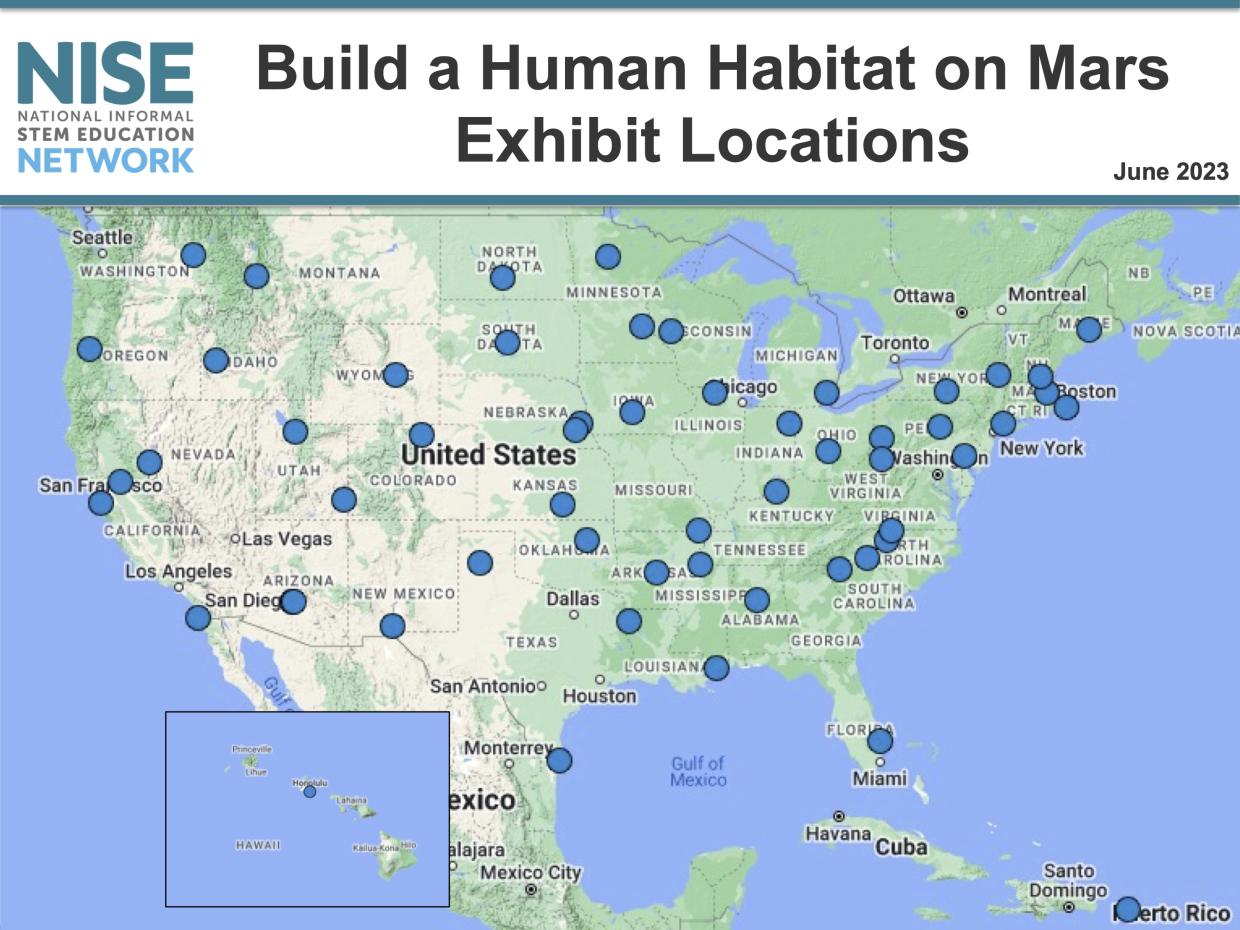 Locations alphabetically by state as of June 2023:
Please note that some partners will share the exhibit with other locations in the future. Be sure to check with the museum for display dates before you plan a visit.
---
Learn more
---
Acknowledgements
This material is based upon work supported by NASA under Grant Number 80NSSC20M0030. Any opinions, findings, and conclusions or recommendations expressed in this material are those of the author(s) and do not necessarily reflect the view of the National Aeronautics and Space Administration (NASA).