Celebrating the 200th anniversary of the publication of Mary Shelley's novel.

Frankenstein is a modern myth: a 200-year-old story that explores themes of human creativity, societal responsibility, and scientific ethics. These themes continue to resonate today. As citizens with access to incredible tools for creation and transformation, we need to understand the fundamentals of science and technology and develop the skills to actively participate in civic and policy discussions.
Frankenstein200 takes on the challenge of supporting learning related to responsible innovation. The project uses themes from Frankenstein to examine emerging technologies like artificial intelligence and genetic engineering, while promoting the development of 21st century skills related to creative collaboration and critical thinking. Frankenstein200 explores three important questions: What is life?, Why do we create?, and  What are our responsibilities as creators, scientists, and engineers?
---
Digital toolkits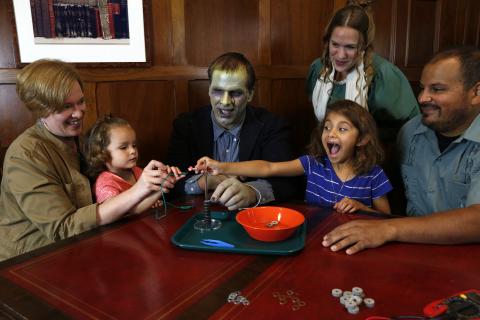 Download links for the entire digital kit Zip files:
       COMING SOON!
A digital version of the Frankenstein kit will be available for download in November 2017
---
Kit Contents
The Frankenstein200 kit includes seven hands-on activities that encourage creativity and reflection about responsible innovation. 
Audience: Kit activities are designed for family audiences including children, and work particularly well for ages 6 and up. These activities are suitable for use in museums and other informal learning settings such as libraries and afterschool programs. They do not require special lab facilities or equipment.
Kit contents include: 

A set of hands-on activities that use the Frankenstein story to inspire deeper conversations about scientific and technological creativity and social responsibility. The activities have been tested with public audiences and reviewed by experts. 
Professional development and training materials including guides and videos. 
Promotional and marketing materials. 
---
Planning & Promotional Materials
Frankenstein200 planning and promotion guide
Large promotional banner
Sample press release
Photo release form
Temporary tattoos
L.I.F.E. adventure guide
L.I.F.E. lab coats (adult and child)
Marketing Materials
Style Guide (start here)
Logos
Fonts
Palette
Press photos
Training Materials
Frankenstein200 overview slides and notes printout
Activity booklets
Facilitator guides
Tips for conversations + Project overview
Activity training videos
Hands-on Activities
Automata
Battery Stack
Dough Creature
Frankentoy
Monster Mask
Scribble Bot
Spark of Life
Posters
Life
Creativity
Responsibility
---
Online Alternate Reality Game 
The project has also developed an online alternate reality game that immerses players in the modern-day Laboratory for Innovation and Fantastic Explorations (or L.I.F.E.). This interactive fictional story imagines what might happen if a character named Dr. Tori Frankenstein picked up where her ancestor Victor left off.
The L.I.F.E. game  - COMING IN LATE 2017
---
Learn More
---
Acknowledgements
This material is based upon work supported by the National Science Foundation under Grant Number DRL-1516684. Any opinions, findings, and conclusions expressed in this material are those of the authors and do not necessarily reflect the views of the National Science Foundation.