Revisit past years' kits, see who participated each year since the beginning, review reports to see what worked for other partners and best of all - read how it all began!
Digital Kit Archives
NanoDays Participants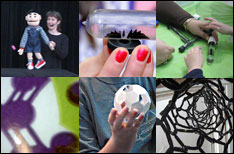 Images from NanoDays Past & Present. Get a glimpse of what your colleagues were up to during their NanoDays by visiting our NanoDays Flickr pool. Still have NanoDays pictures? Join the group and upload them!
Find us on Facebook, Flickr, and Twitter (use #nanodays to tweet your nano events!)