Forty million people are infected with HIV worldwide, and the number grows by millions each year. The current best weapons against HIV transmission are barrier methods—condoms and dental dams. Even these are not 100 percent effective, given the possibility that these barriers may rupture.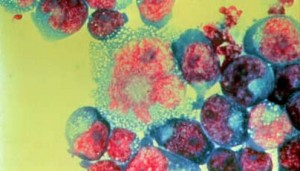 [1]These T-cells are infected with the HIV virus. Soon, HIV infection could be prevented by trapping the HIV virus in a dense, bushy molecule called a dendrimer.A company in Australia is developing a "liquid condom," a topical gel called VivaGel that blocks the transmission of HIV as well as other sexually transmitted infections, including herpes and chlamydia. Applied to the vagina before sex, the gel works by binding to proteins on the surface of the HIV virus, making them unable to attach to (and thereby infect) T-cells in the body.
The nanotechnology behind the gel is a tree-like molecule called a dendrimer. Dendrimers are constructed in stages. Starting from a central core, multiple compounds attach and branch off. Further reactions cause each branch to branch in turn, ultimately forming a dense, bushy structure. The ability of dendrimers to conceal drugs within their branches makes them very promising as smart drug delivery capsules, especially since the dendrimers can also be designed to change shape and release their cargo under appropriate conditions.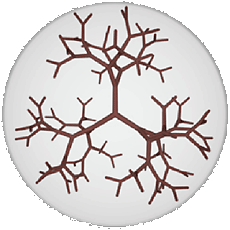 [2]Multiple branches give dendrimers their tree-like structure.In the case of the "liquid condom," however, the dendrimers themselves, and not a drug hidden inside, are the active ingredient. Like balls of Velcro, dendrimers stop infection merely by sticking to the proteins on the surface of the HIV virus and other microbes.
Vivagel has already demonstrated its effectiveness at preventing HIV transmission in primates, and is currently being tested in human clinical trials.