Imagine being able to detect harmful bacteria, viruses, or other contaminants with a simple swipe of a paper towel. Far-fetched as it might sound, such a technology already exists, though it's not yet on the market.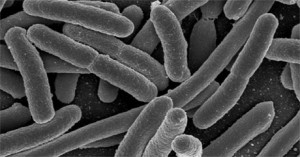 The presence of E. coli bacteria (shown here) causes the "nano napkin" to turn yellow.The so-called "nano napkin" is a napkin made of ultra-fine polymer fibers 100 billionths of a meter (or 100 nanometers) wide. The fibers are coated with antibody-bearing proteins. When the antibodies come in contact with a specific pathogen, they release a dye that changes the color of the napkin.
So far, Cornell researchers have only developed a napkin to detect E. coli bacteria. Wipe the napkin on a surface contaminated with E. coli and it turns yellow—a potentially useful tool in a meat-packing plant or industrial kitchen. By substituting different antibodies, napkins could be made to detect any number of contaminants, including anthrax, bird flu, or even the common cold virus. Multiple antibodies on one napkin could allow for detection of dozens of biohazards at once.
Though the napkin is in its preliminary stages, the technology promises to be inexpensive and, clearly, easy to use.