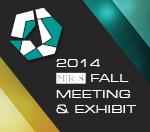 Date:
Sunday, November 30, 2014
to
Friday, December 5, 2014
Call for Papers
Abstract Submission Site Opens—May 19, 2014
Abstract Deadline—June 19, 2014
Symposia of particular interest to NISE Network members may include:
Symposium FF: Materials as Tools for Sustainability 
Symposium AAA: Undergraduate Research in Materials Science-Impacts and Benefits
Symposium FF: Materials as Tools for Sustainability 
The 2014 MRS Fall Meeting & Exhibit, planned for November 30 - December 5, 2014 in Boston, Massachusetts, includes a Sustainability Symposium that focuses on topics of interest in education and social implications (see below)—Symposium FF: Materials as Tools for Sustainability. We hope you will consider participating in some capacity as we work to bring together various professional communities to network and share their research in this all-encompassing topic.
If, after reading the description of the symposium, you have any questions or suggestions regarding topics, ancillary events, panel sessions or invited speakers, please contact one of the symposium organizers (listed at the bottom of the webpage).
Session topics will include:
Materials for sustainable technologies
Minimizing impact on human health and environment
Materials for reducing carbon emissions
Materials sustainability and energy
Materials and water sustainability
Availability and supply chain of raw materials
Materials life cycle analysis, recycling, repurposing, and reuse of materials
Design and manufacture of materials for transportation
Buildings and physical infrastructure materials
Indigenous and native materials, and consumer culture​s​ for sustainability
Teaching Sustainability: tools, techniques, and collaborations
A tutorial complementing this symposium is tentatively planned. Further information will be included in the MRS Program that will be available online in September.
For further information on the 2014 MRS Fall Meeting & Exhibit, visit www.mrs.org/fall2014. To receive e-mail updates on upcoming meetings and workshops from the Materials Research Society sign up here. Additional information is also available from MRS Member Services by phone at 724-779-3003, by fax at 724-779-8313 or by e-mail at info@mrs.org.
More Information:
---
The following public outreach and professional development events are provided by the NISE Network, NSF, and the Materials Research Society Foundation
Public Outreach Events
Professional Development
Education Sessions
---
About MRS
Starting with just four symposia in 1983, the MRS Spring Meeting and Exhibit has grown to over 50 symposia and over 5,000 attendees. Held annually in San Francisco's Moscone West convention hall, MRS Spring Meetings are essential events for discovering and presenting the very latest developments in materials research.  www.mrs.org